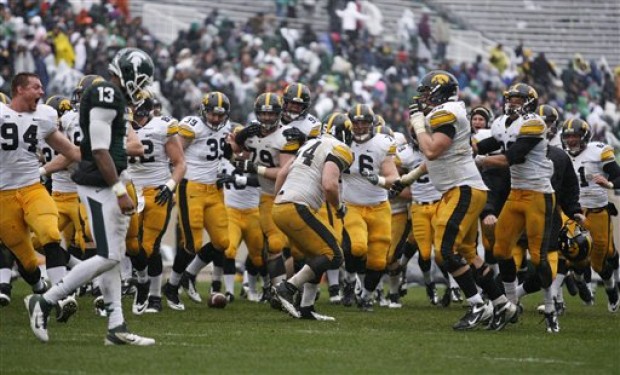 As I sat through another shockingly bad Iowa Hawkeye effort today against Michigan, I couldn't help but laugh. I'm past the depressing part of the season. I'm past being even bummed out about things. It's just comical at this point. Iowa is not good at football. They are not good on offense; they are not good on defense, and I guess they're kinda okay on special teams. Right now, I'm just hanging on to the fact that Greg Davis only got a one year deal, because of a technicality, so maybe Barta will put the pressure on Ferentz to give him the boot, because that offense is really depressing (Note: It did not seem as depressing today. I think that this is because it was fun to see Weisman back and I love seeing tight ends utilized. Still, the stats are proof that it was still quite awful).
But that's where I'm at now with the Hawkeyes: Indifference. I just don't care. Now if you want a really depressing situation, just look to another team in the Legends division in Michigan State. Now THAT is a depressing situation. They were one of the favorites to win the Legends division this year and instead have just one more win than Iowa. Outside of losing 20-3 to a Notre Dame team that is still undefeated, they have been right in every game. Look at these other losses:
Going into the game at 3-1, they lost to Ohio State by one point, 17-16. Ohio State, much like Notre Dame is still undefeated.
Two weeks later, they lose in double overtime, 19-16. They lost that game to IOWA. That loss is looking worse and worse as the season goes on. How did they lose that game? I watched it and still had trouble figuring it out. But, sure enough, they lost to Iowa. That alone is enough for fans to start cutting themselves just so they can feel again.
The next week, they played their in-state rival, Michigan, and lost 12-10. They were up 10-9 with two minutes to go before Michigan drove 41 yards before kicking a field goal with five seconds left. That's a pretty depressing way to lose a football game.
Two weeks later, after an inspiring win over Wisconsin in overtime, they lose to Nebraska 28-24, because Taylor Martinez who is as good at throwing footballs as I am at having babies, threw a touchdown pass with six seconds left in the fourth quarter to give them the lead.
And now today, they lose to Northwestern. As Michigan State was trying to get the ball back, they forced an incomplete pass from Northwestern on third down. Unfortunately, Johnny Adams, their best cornerback, committed a stupid pass interference penalty. They gained some more yards, and took some more time off the clock. MSU finally gets the ball back, gets to fourth down where Andrew Maxwell nails Sims down the middle before he loses the football. They ended up calling it an incomplete, but Northwestern recovered it even it was a fumble, so there was no point in challenging the call. They lost 23-20 either way.
Outside of Andrew Maxwell, Michigan State seems like a good team, yet they only have one more win than Iowa team that is most certainly not a good team. So, yeah, it's awful to be a Hawkeye fan, but it's far less heartbreaking than cheering for Michigan State.