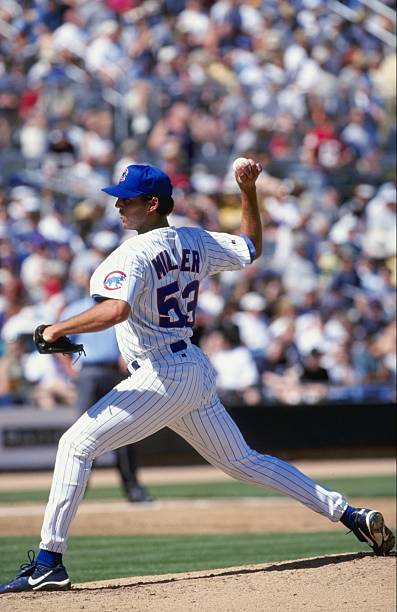 34. Kurt Miller
Kurt Miller was supposed to be a big deal. This is a man drafted fifth overall by the Pittsburgh Pirates. His career started off well as he performed well in the lower levels of minor league baseball. He was good enough to be traded for Steve Buechele, and that ain't nothing to sneeze at. He was able to make his major league debut at the age of 21 with the Marlins. Unfortunately, the major leagues seemed to be a code that he couldn't crack. The Marlins traded him to the Cubs for nothing before the 1998 season. And that's where things get interesting.
Kurt Miller's 1998 season for the Chicago Cubs was nothing short of incredible. Let's take a quick look at his ERA in each of his years in the majors.
8.10
DNP
6.80
9.82
0.00
18.00
Oh yeah, 1998 was a magical year. Miller went 14-3 for the Iowa Cubs that year to earn a September callup to Chicago. In three appearances, Miller went four innings, had six strikeouts, while giving up zero walks and zero runs. This was not smoke and mirrors as his FIP was 0.14.
And he didn't just do this against chumps. I mean, Miller was able to take out both Aaron and Bret Boone in the SAME inning. His relief work was a boon for the Cubs who were in desperate need of bullpen help.
But as good as Miller's stats were, his most important stat was 0-3, and that was the Cubs record in games where Miller pitched. Now a lot of nerds will tell you that reliever win percentage is not a thing, but Jim Riggleman and I know better. Sure, Miller was never put in a game where the Cubs were losing by any less than four runs, but a reliever's job is not only to get outs, it is to inspire his teammates, and that is where Miller fell short.
So it was no surprise that despite Miller's statistical superiority in many categories, Riggleman left him off the playoff roster.
Although he started the year in the big leagues for the Cubs, poor performance and a rib injury got him sent down and eventually he was allowed to play in Japan where he struggled for a couple years before retiring in 2000.
Kurt Miller did not have a long run in 1998, but he did the best job possible in that limited time. Sure, any hope for the future turned out to be misguided, but the 1998 Chicago Cubs were a team built on hope and Miller only added to Cubs' fans optimism.
In case you missed it:
Introduction
#47 - Matt Karchner
#46 - Jose Nieves
#45 - Rodney Myers
#44 - Justin Speier
#43 - Tony Fossas
#42 - Kennie Steenstra
#41 - Chris Haney
#40 - Bob Patterson
#39 - Pedro Valdes
#38 - Derrick White
#37 - Ben Van Ryn
#36 - Terrell Lowery
#35 - Don Wengert