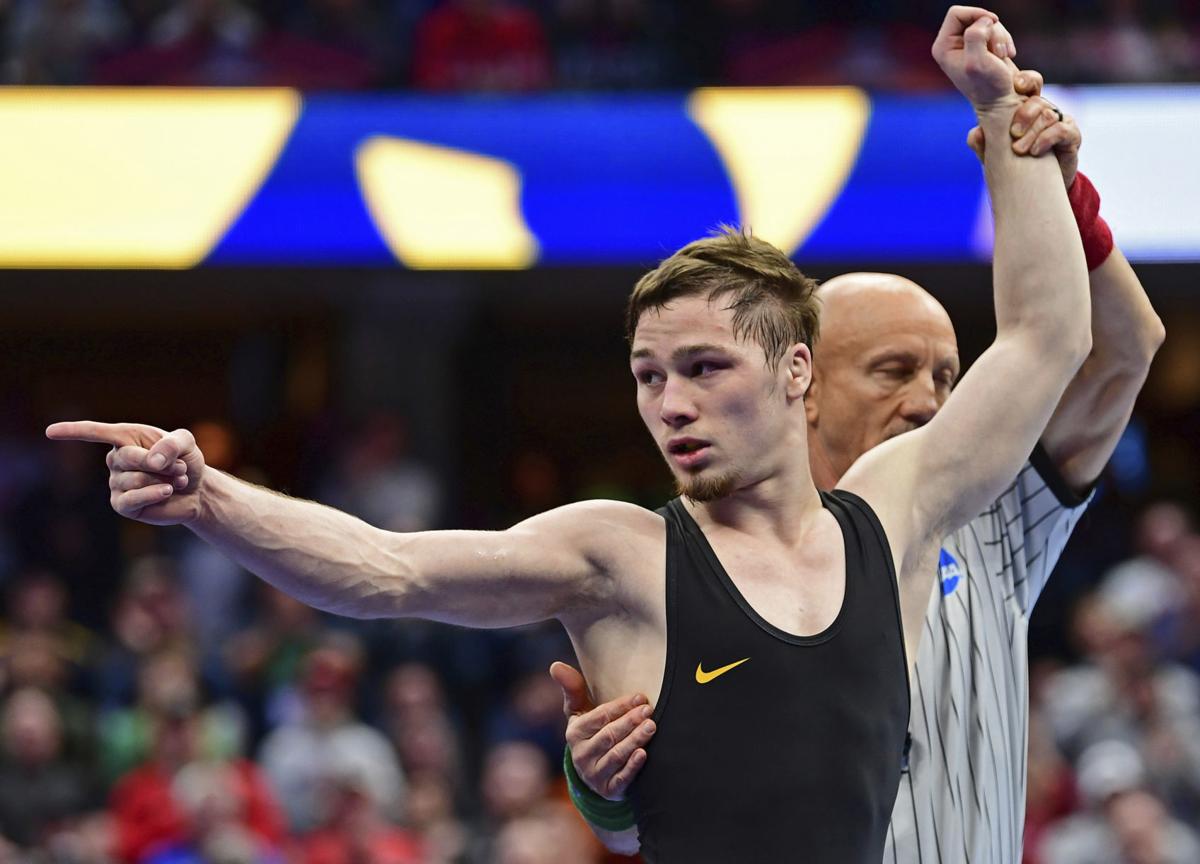 The NCAA Tournament concluded this wrestling season which is one of my most manic-depressive moments of the year. It is such a high to have about 20 hours of wrestling to watch over three days and then have nothing for eight months. But at least we ended on a high note as the Hawkeyes performed incredibly well at the tournament, and although a few guys didn't quite live up to expectations, there was really only one dud of a performance. Let's grade each wrestler, from worst to best performance this past weekend.
10. Paul Glynn - 133 - Incomplete
Paul Glynn did not qualify for the NCAA Tournament so not a lot to say about his performance.
9. Joey Gunther - 174 - D
Gunther had two matches in the NCAA Tournament, and he went 0-2. That's...less than ideal. His first match was against 13 seed, Jacobe Smith. That's a fairly good draw as an unseeded guy, but Gunther did not take advantage and ended up giving up a major decision. Smith did end up becoming an All-American with an eighth place finish, so it is slightly more acceptable. He then lost a closer match to Josef Johnson, but Gunther again got no offense going. He showed up, but that was about it.
8. Brandon Sorensen - 149 - B-
Sorensen finishes this low despite having the third best finish of any Iowa wrestler where he took fifth place at 149. Still, anything short of making the NCAA Finals was going to be a disappointment for Sorensen, and unfortunately for him, those dreams ended early. After a nice 11-6 win over Jared Prince from Navy, Sorensen took on Ronald Perry from Lock Haven. Perry stalled throughout the match but nailed his one shot for a takedown late in the third and Sorensen wasn't able to answer. Although losing to the 15 seed is a tough pill to swallow, Perry did make it all the way to the NCAA Finals. After that, Sorensen caught fire and took a major decision over DeLuca from Rutgers, a decision over Deakin from Northwestern, and major decisions from both Hayes (Ohio State) and Lewallen (Oklahoma State). On Saturday morning, he took on Matt Kolodzik from Princeton and again failed to get to his offense and lost a close decision. That sent him to the fifth place match where he shut out Grant Leeth of Missouri 4-0. Overall, it wasn't a bad performance, but it just left you wanting more, as I'm sure Sorensen himself expected more of himself. Still, he goes out a 4-time All-American at Iowa, which is one hell of an accomplishment, and he will definitely be missed.
7. Vince Turk - 141 - B
Turk came into the tournament unseeded and had the extra disadvantage of having a pigtail match before he even made it into the bracket of 32. He ended up getting a major decision in his first match. His second match pitted him against 16th seeded Cole Weaver, a guy Turk had lost to at the Midlands this season. It looked like more of the same as Weaver was ahead late in the match, but with less than ten seconds left Turk, not only got the takedown but took him to his back for a two-count and won 4-3 in a match that had me jumping up and down and terrifying my dog. Unfortunately, that set up a match with #1 seed, Bryce Meredith. Although Turk got close on a couple shots, Meredith's defense was too much and Turk fell 5-2. He would then win a 3-2 decision over Limmex before losing a 3-2 decision to Chad Red of Nebraska. That was disheartening as Turk beat Red two weeks earlier at the Big Ten Tournament, but Red was wrestling very well at the tournament and ended up taking seventh place and becoming an All-American. Overall, the progress Turk made from the beginning of the year until the end was truly amazing, and his relentless offense with absolutely no defense was always fun to watch.
6. Mitch Bowman - 184 - B+
Bowman had a similar tournament to Turk. He was able to take out the 15th seeded wrestler at 184 in Missouri's Canten Marriott with a pretty damn impressive 10-2 major decision. Unfortunately, he was on the wrong side of a major decision when he faced second-seeded Myles Martin. But Bowman bounced back with a 4-3 win over Eastern Michigan before running into seventh seeded Taylor Venz. Venz proved too much for Bowman and too much for most, as Venz ended up taking fourth place at 184. Bowman came in unranked and lost to the guys who took second and fourth place. He got bonus points over a ranked guy, you really can't ask much more from the guy than that.
5. Cash Wilcke - 197 - B+
I'm going to sound like a broken record at this point. Good first match, got matched up against the guy who would go on to make the Finals and lost. Then, he went on a tear on the backside of the bracket, getting a pin and then winning in overtime to again make it into the Round of 12, the blood round, for the second consecutive year. That is where he got matched up against top-seeded Kollin Moore; Wilcke again came short of his quest to become an All-American.
I would just like to point out that Iowa only had one loss to a wrestler that did not become an All-American, and that was Gunther's loss to Josef Johnson. In fact, here are the placements of all of their losses.
UR, 8, 8, 7, 5, 4, 4, 4, 3, 3, 3, 2, 2, 2, 2, 2, 1
That is INSANE. Over half of Iowa's losses at the tournament happened to guys that finished in the top three at their weight.
4. Alex Marinelli - 165 - A-
Four through two were the toughest guys to rank as you could basically place them anywhere. Marinelli came out and wrestled better than he has all year, and this is a guy who was undefeated going into the Big Ten Tournament. He just came out determined and pushed his will on people. He started with two straight pins before running into the 4-seed, Chad Walsh of Rider. It was a battle from start to finish, but Marinelli gritted out a 7-6 win. He then took on two-time National Champion, Isaiah Martinez, and Marinelli did not have enough for IMAR. That started an unfortunate run of three straight losses which dropped him to sixth place. One was to Evan Wick, who was wrestling out of his mind and ended up in third, and the other was to David McFadden, in a match that was close but ended in a flash pin that seemed a little questionable to me. But let's not overlook the fact that Marinelli went in and attacked for every minute he was out there. It was fun to watch and he is definitely a national title contender for the 2019 season.
3. Sam Stoll - Heavyweight - A-
Stoll started off hot with a pin in his first match. After that, it looked like he would move on past Youssef Hermida of Maryland as he had the lead late in the match before giving up a six-point move and losing 7-2. That sent him to the consolation bracket where he didn't panic; he just started crushing dudes. He held Andrew Dunn of Virginia Tech scoreless in a 7-0 win. He followed that up with a pin over Purdue's Shawn Streck. That put him in the blood round against Nathan Butler of Stanford where he dominated in a 15-3 major decision. After that, he had Penn State's Nick Nevills who had beaten Stoll twice earlier this season. It went to overtime where Stoll got a big takedown to Nevills back for a four-point move and a 5-1 victory. After that, he took on Jacob Kasper. Stoll looked good early but got caught in a headlock and pinned. That sent him to the fifth place match where he ended his season in the best way possible, with a pin over Hofstra's Michael Hughes in the first period. Stoll got the slight edge for that victory over Nevills as that was probably the best non-Spencer Lee win of Iowa's tournament.
2. Michael Kemerer - 157 - A
Kemerer came out and showed why he was considered one of the top two guys at this weight class the entire year with pins in each of his first two matches. Of course, due to seeding stupidity, he was matched up against Jason Nolf in the quarterfinals, which was at least one, if not two rounds before that match should have taken place. Nolf did end up getting the decision as Kemerer couldn't find a way to generate offense against the Penn State stud. He went to the consolation side of the bracket and immediately drew second-seeded Joey Lavallee of Missouri. He won a convincing 5-2 decision. Then he took on the fourth-ranked Josh Shields and did the same thing to him, this time winning 6-2. Then he took on fifth ranked Alec Pantaleo, and he beat him 6-1. It was Kemerer doing exactly what you would expect on his way to the third place match. Unfortunately, Kemerer suffered a shoulder injury in the third place match and had to injury default. I'm not going to fault him for that. He lost to Jason Nolf, who everybody loses to. Outside of that, he showed why he is a top guy at this weight class, and he did it while clearly not being at 100%. Getting past Nolf is going to be tough, but I certainly wouldn't count Kemerer out.
1. Spencer Lee - 125 - A++
I have to give Spencer Lee a made up grade, because what he did was so unfathomably dominant that an A+ simply wouldn't do the trick. In my most ideal scenario for Lee, I would have had him dominating his first two opponents, pulling a major decision against Piccininni, getting a one-point win over Tomasello, and doing the same in the finals against Suriano. That was the best case scenario in my mind. That would have been an amazing tournament. Instead, he went out and did this:
1st Round: 18-0 Technical Fall in 1:41 over Alonzo Allen of Chattanooga
2nd Round: 18-0 Technical Fall in 3:59 over Luke Welch of Purdue
Quarterfinals: Fall in 3:58 over Nick Piccininni of Oklahoma State
Semifinals: Fall in 6:02 over Nathan Tomasello of Ohio State
Finals: 5-1 Decision over Nick Suriano of Rutgers
When it was all said and done, he outscored his opponents 60-4 and scored 27 team points by himself. If Spencer Lee was a team, he would have tied for 20th place on his own.
Before the tournament started, I was super high on Spencer Lee. I thought he had a very good chance of becoming the greatest wrestler of the Tom Brands era. Now? He's got a shot to be the greatest wrestler to ever wear an Iowa singlet. That's not hyperbole; he's that damn good.