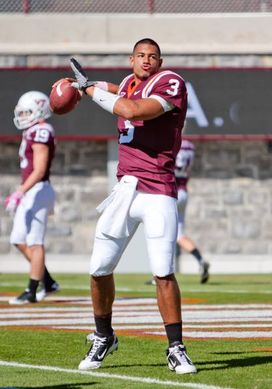 After falling in love with Blake Bortles last week, I figured I would look at another guy that I am not a believer in despite not watching much tape of him. I am going with the guy that Mel Kiper fell in love with a few years ago, Logan Thomas. The physical tools have always been there for Thomas, so I decided to give him a closer look with
his game against Miami
.
The first thing that stands out about Thomas is that he is big and athletic. It made people like Kiper drool, because the tools are there. Athletically, he moves very well and is a tough guy to bring down.
As you can see, he's not a burner, but he is a threat in a read-option scheme and can be utilized in short yardage situations.
His footwork is rough as it doesn't match up with where his upper body is pointing. It's just a slight misalignment, but it hurts his accuracy. This pass gives three different angles, so it is a great demonstration of what I am talking about.
He completes this pass, but when you look at the end zone cameras, it looks like he is going to fire the ball directly in front of him, instead it is about 10 yards to his right. It's surprisingly accurate, but a quarterback cannot expect to maintain accuracy when the feet and shoulders are off alignment like that.
He does a good job of throwing on the run when he can just let his natural athleticism take over and get more in a rhythm.
This is an area I can personally understand from playing tennis. If somebody hits the ball at me, my mechanics are terrible, because I'm just waiting and thinking about the shot, but if somebody makes me run from side to side, my strokes are smoother and my footwork is naturally better. I'm a casual tennis player, so my footwork still sucks when people hit it at me, and I'm sure Logan Thomas has been working on his footwork for quite a while, and it's still not there.
Another issue with Thomas is that he is consistently late on throwing the ball.
He waits for his receiver to get open before throwing the ball, instead of seeing how the play is going to develop. This is the issue that I just don't see resolving itself. The throwing windows are only going to shrink in the NFL, and waiting that extra split second is going to destroy any chances he can have as a successful quarterback.
Logan Thomas is not a complete joke at quarterback. He's got a lot of things going for him. He has good arm strength and good mobility. When his mechanics are in sync, he looks good. Unfortunately, that doesn't happen nearly enough. On top of that, his hesitation in waiting for receivers to get open is simply not going to work at the next level, as it didn't work a lot of times at the college level. I can actually see what Mel Kiper was so excited about. He had limited experience as a QB, and the physical skills are something to fall in love with. Unfortunately, he just never cleaned up the mechanics, and he's still slow to make decisions. But he was originally supposed to be a tight end, and with that size and athleticism, I could definitely justify a third day pick on him. At quarterback, I would bring him as an undrafted free agent and hope for the best. I like the tools but doubt he can turn those into results.
Here are my quarterback rankings for the prospects I have looked at so far:
Blake Bortles - Central Florida
Zach Mettenberger - Louisiana State
Logan Thomas - Virginia Tech
Aaron Murray - Georgia