The nice thing about being married is that any excuse to get out of the house and do something together can be considered a date. My wife knows that I am not a romantic, so she has very low standards for a good time out. Her low expectations have been a boon for me. We have had two great date nights in the past few weeks, as a couple weeks ago, we went to the Orange Bowl. This past weekend, I took it to a whole new level, by taking my wrestling nerdery to a whole new level, and taking my wife for a night out at a WWE NXT house show.
The event took place at the Lakeland Armory, and when I walked in, I had mixed emotions. I was pumped, because there were only about 150 seats, so I knew my GA seats would be in the third row. I was a little disappointed, because the ceiling was so low that I knew there was not going to be any high flying maneuvers that night. Anyway, there was no alcohol served, so I decided to relive my high school days and pound some Mountain Dews while watching wrestling. I am a child.
We got there about a half hour before the show, which was right in time for the pre-show autograph signing with NXT superstars Jason Jordan and Mason Ryan. But then they announced a special guest appearance with Billy Gunn. Unfortunately, I forgot my Ass Man shirt at home, and since I was unable to get that signed, I really didn't care about getting autographs.
Then, I saw him. A real-life WWE (WCW, if you want to get technical) Superstar. One of my wrestling heroes. A man that has inspired my earliest West Coast Dance moves. That's right, it was Screamin' Norman Smiley.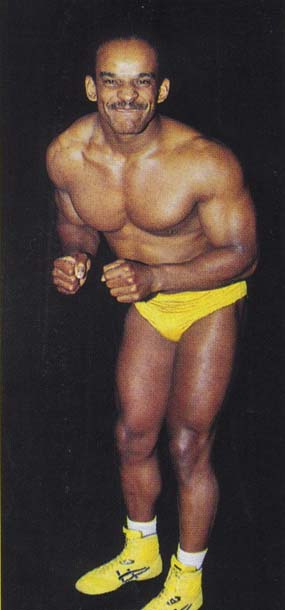 He was across the crowd from me, so I made the choice to wait as surely he would work his way around closer, so I could thank the man for all of his influence on me. This was a huge mistake on my part, as he only popped out from behind the curtain for that single minute, and I never saw him again the rest of the night. I'm still mad at myself, because Norman Smiley is the best.
Never forget.
Anyway, back to the NXT show. I'll quickly break it down, match by match.
Devin Taylor introduced Slate Randall as our host. He seemed pretty good on the microphone, but that may have been just because he was alongside Devin Taylor, so the bar was not exactly set high. Anyway, he's a stereotypical cocky jerk, so I'll be interested to see his character on television.
The first match of the night was Aiden English vs. Colin Cassady. It wasn't a really solid match and probably my second favorite of the night. They worked well with each other, and it's just really fun to chant S-A-W-F-T SAAAAAAAAAWFT.
The next match was Sylvester LeFort and Marcus Louis vs. Mason Ryan and Jason Jordan who are tagging up, because they are muscular and their first names' rhyme. Before the match started, I told my wife to wait for the USA chants, because they were coming, despite Mason Ryan being Welsh. About three seconds later, Jason Jordan started the chants. I proudly chanted along, because America. Anyway, LeFort and Louis had a pretty funny chant thing they were doing that I couldn't totally make out the words, but I have a feeling I will be seeing it soon on NXT.
After that, it was Baron Corbin vs. CJ Parker, and I felt bad for both guys. I don't like CJ Parker, but shit, everybody else hates CJ Parker, and it is just a constant stream of people yelling at him about how badly he sucks. There were 7-year-old kids yelling at him about how much he sucks. This is a problem with NXT shows, because it is full of Smarks. Fans who love the bad guys and hate the good guys. I fall into this group, but I still try to cheer good guys and boo the bad guys, because that's the reaction that will actually help the wrestlers. I don't really need other wrestling fans to think I'm cool, but good for the people who need that sort of affirmation. His hippy gimmick does not make sense, and my wife brought up a really good point that his bright white go-go boots don't quite fit the hippy lifestyle. He should probably get some birkenstocks. Anyway, I also felt bad for Corbin, because he tried to be a heel, but Hitler would have trouble getting heat when facing CJ Parker. I just felt bad for everyone involved.
After that, there was an appearance from Sweet T, who immediately tried to become a heel again. Then Leo Kruger came out with his new gimmick, Adam Rose, and he now has a fat manager named Humphrey. They love to dance, but his accent makes it sound like Donce, and I have been chanting donce ever since. It's starting to wear down my wife. Honestly, this was the best match of the night, as they went back and forth and put on a really fun match for the crowd. I'm now a huge Adam Rose fan and despite the cool fans continually chanting Leo Kruger, I think this gimmick has way more potential to get him on the main roster. Also, hopefully Broadus and Sweet T become heels, because they need something to switch it up.
After intermission, they kicked it off with a Divas match with some redhead named Becky Lynch against Bayley. It was a little slow, but it was fine. Bayley was definitely a fan favorite despite my wife describing her as "softball girly looking."
Then it was Corey Graves vs. Troy McClane (I didn't catch the guy's last name, but that was the only Troy I found on the roster). There was an incredibly annoying fan who would not stop yelling. Corey Graves rightfully told her that nobody wanted to hear her, and became an instant fan favorite, because that lady was seriously the worst. Troy was going through his infomercial spiel, but the lady would not shut up, so I couldn't hear half of it. Since Corey Graves talked trash to that lady, he became my wife's favorite wrestler of the night. Most people either really like or really hate him, but I'm kind of blah on him. He's perfectly fine.
Finally, it was the main event between Adrian Neville and Bo Dallas. Bo seemed to phone in this match, and with the low ceilings, there wasn't much that Neville could really do. He did some flippy stuff, and Bo Dallas put on some decent offense, but they had a cheap pin from Dallas end the match, and it was a pretty anticlimactic ending to the night.
Overall, it was a fun night. There was some solid wrestling, and for $10, it's really tough to beat that value. I was disappointed that Tyler Breeze was not there, and I didn't really expect Sami Zayn to be there, so that wasn't much of a surprise. Still, there were a lot of good wrestlers, and even my wife had a good time.
But next time I am definitely getting that picture with Norman Smiley.