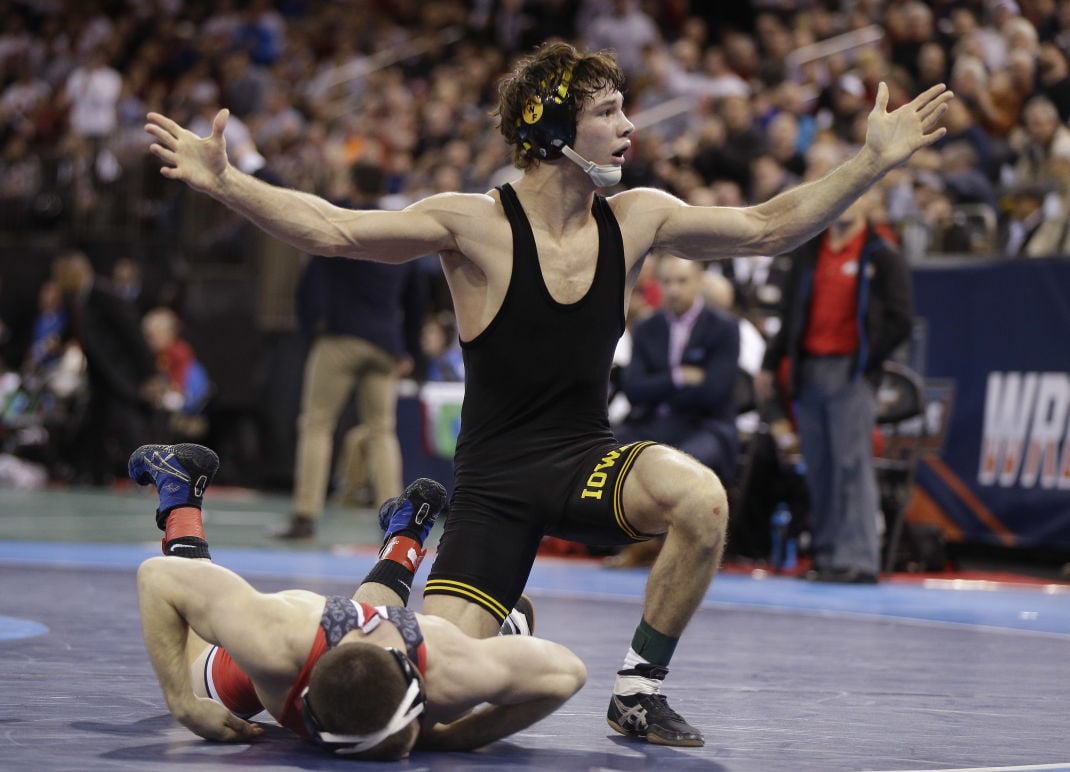 With the wrestling season about halfway over, I thought now would be a good time to check on how Iowa is performing so far this season. Although about half of the year is gone, there are still a lot of question marks, as most of the first half of the schedule provides more cupcakes than proven commodities. Still, things have started taking shape, and we'll go weight-by-weight to break things down.
125 - Thomas Gilman
Gilman has been, without a doubt, the best Iowa wrestler so far this season. He has gone out there and destroyed everything in his path, with the exception of a tough semifinal matchup this past week at the Midlands against Josh Terao from American, who used a whole lot of funk to keep it close but still came up short. Outside of that, he's gotten bonus points against everyone else he has faced this year. With Megaludis graduating and Tomasello moving up to 133, Gilman is the favorite to take the national title at 125, and judging by his wrestling so far this year, I have every reason to believe he will live up to the hype and get an asterisk this year.
133 - Cory Clark and Phillip Laux
Clark started the year off as everyone expected, by going out and dominating his opposition. His closest match was against his teammate, Phillip Laux, but even that match was never in doubt. Unfortunately, after that, Clark suffered an injury that appeared to be non-serious. They said he could have wrestled against Iowa State had he been needed, but he took that off, and three weeks later, the Midlands came and went without Clark seeing the mat. Hopefully it is just precautionary, as Clark is Iowa's second best chance at a National Champion behind Gilman.
Laux has been his replacement, and unfortunately for him, he took over the starting job right before the competition took a big step up. He got manhandled by Seth Gross of South Dakota State but then has held his own in his other matches, including against Iowa State All-American, Earl Hall. Still, Laux is small for the weight and just doesn't have the horsepower to overcome that disadvantage against top competition. He managed to go 2-2 at the Midlands, and he always competes; that's really all you can ask for.
141 - Topher Carton
This weight was originally supposed to be contested between Carton and Vince Turk, but Turk suffered a knee injury early in the season, so Carton was given the starting job to run with. Carton looked great early in the season as he was steamrolling overmatched opponents in nearly all of his matches. However, he finally ran into real competition at the Midlands, and things got far more difficult for him. Kevin Jack of North Carolina State controlled him in their match, which isn't too surprising as Jack is a national title contender. But he also lost a close match to Rohlfing from CSU Bakersfield, and it's those kinds of matches that he needs to find ways to win. He still doesn't have a marquee win, but he also hasn't had a lot of opportunities for one. He's definitely good enough to qualify for the NCAAs, but it's tough to tell how much he can do once he gets there until he starts facing consistent competition during the B1G conference schedule.
Also, fun fact, I was super confused when he was referred to as Christopher Carton at the Midlands. My first thought was that his middle name must be Topher, and then I finally realized that Topher is short for Christopher. It is clear that I have never met a Topher in my life.
149 - Brandon Sorensen
Sorensen has gone out and nearly gotten bonus points in all of his matches, and despite that, it still seems rather unimpressive. Sorensen is clearly the second best guy at 149, but it's also clear that he's still nowhere near #1 ranked Zain Retherford. He was in way too many matches that were too close for comfort, but he managed to come out on top against everyone but the Zain Train. I guess I'm just preemptively complaining about a possible upset loss in a close match at the NCAAs that may or may not happen. He hasn't lost one of those in a long time, so I guess it's best to just sit back and enjoy the terrifyingly close ride.
157 - Michael Kemerer
I am so freaking excited about Michael Kemerer. Iowa doesn't often have explosive athletes on the wrestling team, but when they do, they are so much fun to watch. The first name that came to my mind when watching Kemerer was Montell Marion. Marion came achingly close to a couple national titles, but never could pull it off, but that doesn't diminish how great it was to be able to watch him compete. When his offense was on, he could blast through people on the feet. Marion wasn't great at scoring on top, and right now, that's still a question mark for Kemerer as well, but the guy won the Midlands as a Freshman in maybe the most exciting match of the tournament against Nebraska's Tyler Berger. He's undefeated and seen as a top-5 guy. This is going to be fun.
Note: The only disappointing thing about Kemerer is his nickname is KemDawg. How is it not KemTrails? I might have to start a petition.
That's it for today. I'll finish up tomorrow with the big boys.