It's pretty funny that my weight is going to be 140 after this cut considering that I graduated high school at 143; I had basically zero muscle mass, and you probably could have described my body back then as petite. The way I am getting there is tuna and rice in the morning, tuna and rice in the afternoon, drinking nothing but distilled water, and a protein shake at night. I've found that if I only have seven ounces at a time, I can turn my regular protein shake into two smaller meals at night. Yes, seven ounces of protein shake has turned into a legit meal for me.
It's Tuesday, and my weight is getting better. Since we have a messed up scale, I am approximately 146 Coach told me that I'm not filling out my shirts as well, so I guess that's a positive, but I probably look like even more of a little bitch right now.
By Wednesday night, things are definitely getting a little depressing. I had a shitty practice which didn't help, but I'm just in a funk right now. I'm weaker than normal, and I can't concentrate on anything. It's kind of like a bad drunk where I really can't function to my full capabilities; I realize I'm fucked up, but I can't really do anything about it, so I'm like in Zombie Drunk mode. I watched the movie MacGruber and thought it was really good. It might have been funny, but it definitely could have sucked and I was just in a giggly mood. This paragraph might not make sense to people, but I'm not going to edit it when I get back to full strength. I think that makes this artsy.
I also decided to screw over the system and sign up for a free trial membership at Midtown Sports & Wellness. This place is off the chain nice, but I have a zero chance of actually joining. I usually feel guilty about this, but they made me wait like fifteen minutes before somebody helped me, so I am doing this guilt free. Basically, I needed to have a place with a working scale, and I also needed a place that had a sauna for my cut on Friday. Their usual deal is three days, but I went in and got five, because I'm sexy. God bless my good looks.
On Thursday, I had an average breakfast, a light lunch, and a protein shake for dinner. I'm hungry all the time, but nothing interesting happened on Thursday since I just did 45 minutes on a bike to get a little sweat going.
Friday was judgment day, and it started at 5AM when I was a good guy and took my roommate to the airport. I then had my first of two protein shakes for the day. Then, at 3:00, I went to the gym to see how much I needed to sweat out in the sauna. I was at 143, so it wasn't going too bad of a sweat. It's just that my body was already drained from a lack of nourishment, but I knew that being this close I could sweat off the rest. Honestly, the sauna was pretty relaxing. I just took a book in with me and read to pass the time so it went by pretty quick. I got done with two rounds and was just slightly over. Then the most glorious thing ever happened; I had to pee. My weight dropped .4 pounds which would have made me safe according to the scale, but I decided I'd do one more quick round just in case the scale was off. I got down to 139.2 before making my hour drive up to Rio Rancho.
I was worried about being horribly undernourished and dehydrated for the drive, but the sauna actually made me feel better than I had earlier in the day. I made it up to the place, checked in, and got on the scales, 139.2. I decided to get a professional drawing of myself at this weight, and here is how it turned out: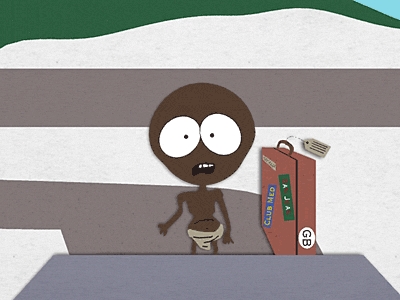 For some reason, they made me slightly tanner, and replaced my Seattle Storm gym bag with a suitcase.
I managed to drop 13 pounds in 12 days. I'm not gonna lie; it fucking sucked, but it was still good to go through that. After I weighed in, I had four dinners spread out by an hour and a half each. It was the happiest I have been in the last two weeks. So I did it, congratulations to me. Wait…what? I have to compete tomorrow? Fuck. Well, I've got weight cutting skills, and tomorrow will tell me whether I have some grappling skills.
-Joe
P.S. I wasn't lying about having a Seattle Storm gym bag. I love that thing.
P.P.S. Although a lot of people have probably already seen this, and even though it's long, I would definitely take a look at
this profile of a former NFL agent
by SI.