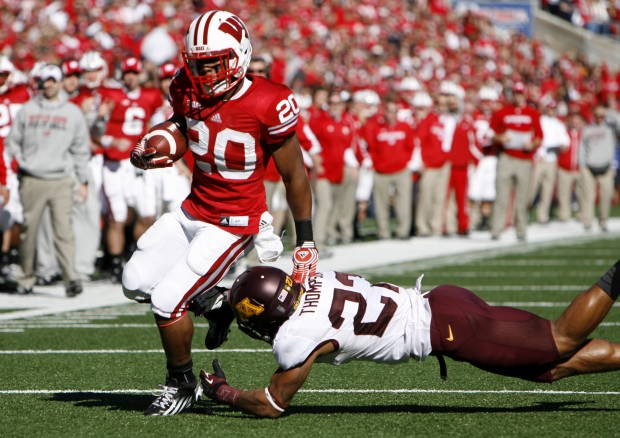 Anybody with even a passing interest in the NFL Draft knows that this is not the year to look for an elite running back. There just isn't that one guy that stands out above the rest of the class. I agree with this assertion, but like all drafts, I think there are diamonds in the rough that will make a team happy late in the draft. A guy that I have liked for a long time that has not gotten much hype is James White (Also, I have no idea
why I seem to like Wisconsin players during their Freshman year
; I should probably go to a doctor). Despite there being a lot of evidence to the contrary, I was always a much bigger fan of James White than his former teammate, Montee Ball. And thanks to Aimal Arsalla,
I was able to check out his game against Illinois from this year
to remind me of all the reasons I see a future for James White in the NFL.

When James White started at Wisconsin, he was behind John Clay and Montee Ball. Clay was a slow bruiser, and Ball was a more balanced back, but White was the quick one who was very adept at finding the holes that the big hosses up front were able to create. That's one thing that consistently showed up when watching him. He makes one strong cut and goes for it. There is no dancing, no stutter steps, he just sticks his outside foot in the ground and cuts up field. He rarely makes a bad decision on these cuts and can do it behind the line of scrimmage or down the field. This screen pass does a nice job to show his ability to make strong cuts in the open field.

He makes the first Illinois defender look about as bad as any defender can ever look. Then he sprints down the field, slightly alters his route to go inside his blocker and goes through that seam where the defender is forced to tackle him forward which gains a few extra yards.

He's not a powerful back, but what he lacks in power, he makes up by being slippery. He rarely takes a square hit, and because of that, he is usually able to fall forward instead of getting driven backwards. This is a good example of his shiftiness.

There isn't a lot of room to work with, but he makes the linebacker look terrible and even with a safety right there, he managed to pick up a couple extra yards.

Some people may look at it as a concern that he has always shared time with another back, but there is a positive in that where he has not taken as much abuse as other college running backs, so there may be more miles on that engine. He's not a powerful back, but he makes up for it with his other skills, as he makes smart cuts and he manages to be slippery on contact where he can fall forward without having to plow forward. I see a lot of Warrick Dunn in his game (that is obviously absolute best case scenario), and I think a team will be very happy if they play to his strengths. I really haven't seen much talk about him outside of a late round/undrafted free agent, but if this guy is available in the fifth, he can provide some excellent value. This may not be a great year for running backs, but there are always good running backs available late, and James White is one of those guys.