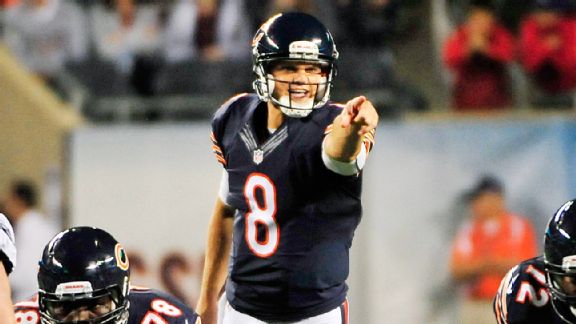 Man, people really hate Jimmy Clausen, but I don't totally understand why. Yes, he has a punchable face. Yes, it is easy to hate all things Notre Dame. And yes, he has not lived up to some lofty expectations. I know a lot of people are laughing at the Bears because they benched Jay Cutler in order to start Clausen, but I'm not so sure he's going to fall on his face like people expect.
Now Clausen can't change that he has a punchable face, nor can he change what college he attended, but I'm not so sure how big of a bust he has been thus far in his career. It's not like he was a first round pick; he wasn't selected until halfway through the second round. He's considered much more a bust, because Mel Kiper had him number one on his board. Honestly, the Rams may have been better off taking Clausen over Sam Bradford considering how things turned out.
Clausen started 10 games in his rookie year, and he was admittedly terrible. There is no getting around that, but a lot of rookies play poorly and then improve. And it's not like the team was loaded with weapons. The Panthers had Steve Smith and...Dwayne Jarrett? So it's not like this team was loaded with weapons.
What did he do after that year? He has started a grand total of zero games. In fact, he hasn't thrown a single pass. Actually, he hasn't stepped foot on a football field in the regular season since his rookie year. Clausen never really got a fair shake to prove himself.
Now I'm not expecting Clausen to light the world on fire, but what's the difference between Jimmy Clausen and Josh McCown? Clausen went to Notre Dame, so he had more hype. McCown had about four times as many starts over eleven years and repeatedly proved that he was not good, yet he got with the Bears and looked good enough to get a fat contract from Tampa Bay this past offseason. Clausen is young enough to still have some upside, so I'm not sure why McCown succeeded, yet it is ridiculous to think that maybe Clausen could do the same. McCown did have the help of having Brandon Marshall around last year, but that's not enough to count out Clausen from making a positive impact. He's not the first guy with the initials JC that worked miracles, but he might be the best.
Let's face it, a job is on the line. If Clausen falls flat on his face, Trestman is gone (
even though I do not agree with that decision
). But if Clausen succeeds, Cutler is gone, and Trestman is going to have another chance to make the Bears a winner.
You can shit on Jimmy Clausen all you want, but for the first time in two months, I'm excited to watch a Bears game, and that has to count for something.