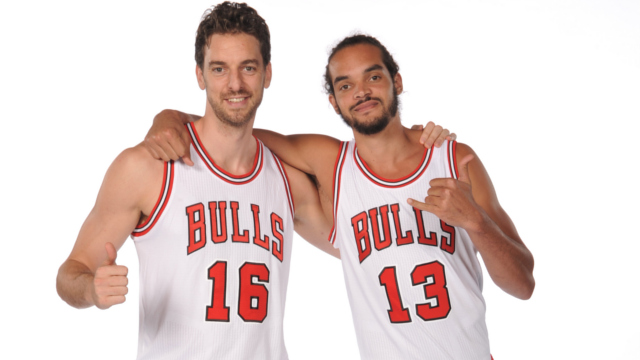 Yet again, the Chicago Bulls have raised my hopes, only to fall well short of getting an NBA Championship. Even without Kevin Love, the Cleveland Cavaliers sent the Bulls home (it was in Chicago, so short drive at least) well short of the ultimate goal. I'm a pretty reasonable sports fan, but there is something about the Bulls that always raises my hopes well beyond their accomplishments. I look at this roster, and it sure looks like it could be potent enough to succeed, but clearly something wasn't right with this team, and things need to change.
It looks like Tom Thibodeau is likely out the door, which I have mixed feelings about. He's an excellent defensive coach, but with the weapons the Bulls have on offense, it sure seems like they could be a more potent team on that side of the ball. The trap he fell into was sticking with certain big guys while ignoring their most efficient lineups. But with Gasol, Noah, Gibson, and Mirotic, the Bulls simply don't have enough minutes to fully take advantage of those players' skill-sets. So it's time to look at the roster and figure out which guy has to go to best give the Bulls a chance to take a step forward.
4. Nikola Mirotic
Yeah, this guy ain't going anywhere. He's by far the youngest guy on the front line, and he's also closest to the ideal of what a power forward should look like now that most teams have realized threes are worth more than twos. His defense is atrocious, but he's athletic enough to at least become adequate there. He's pretty cheap for the next couple years, so I really can't see any reason to get rid of this guy.
3. Taj Gibson
This is the most commonly talked about guy who needs to be traded away, but I think his versatility is needed for the Bulls. He's the perfect third big man, as he can defend centers, while also being able to step out on stretch-fours and even providing reasonable defense on wings since he does a pretty solid job when matched up against LeBron. It's a decent contract for what he provides, and it's about to look pretty good when the cap goes up. I know this is everyone's knee-jerk answer to who should be traded, but I do not see him being the best option.
2. Joakim Noah
Is Joakim Noah done? That is the question Bulls fans have to be asking themselves. Now, obviously he's not going to retire, but is he only going downhill from his performance this past year, or can he bounce back to his 2013-2014 season form when he was Defensive Player of the Year and an incredibly valuable playmaker. It seems like knee injuries are things that often take a year to fully recover from, so I'm betting on the latter. If he can get close to that form, pairing him up with Mirotic in the starting lineup makes the Bulls an incredibly dangerous team.
1. Pau Gasol
And that leaves Pau. I really like Pau and find it hard to argue that any big man was nearly as valuable as he was this season. But I'm not sure how well he would fit in if the Bulls are going to take the next steps to a championship. He is not a good pairing with Mirotic, and I think Mirotic needs to be the starter. He had an incredible season, his contract is a great deal, so he should be able to fetch something pretty dang good in return. It hurts, because Pau seems like one of the best dudes in the NBA (and he's really good at basketball), but it makes sense for the Bulls to get rid of one of their big guys (and no, Cameron Bairstow does not count), so that makes Gasol is the odd man Paut.