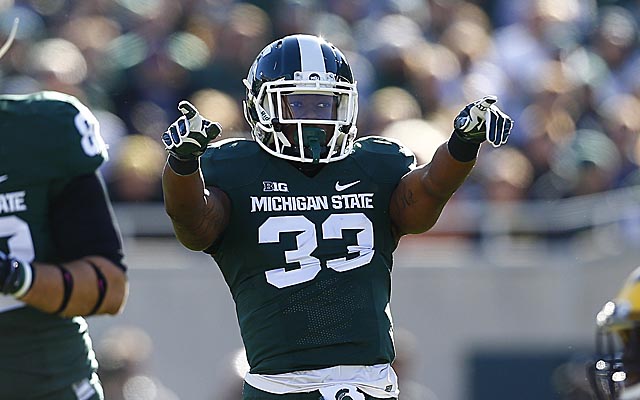 Through the Bears first three picks, I thought the Bears were having an okay draft. I wasn't particularly excited, but I understood the logic behind the picks, as they were more necessary than they were sexy. In the fourth round, I started to swear off the Bears. They drafted running back, Jeremy Langford, out of Michigan State. This tweet summed up my feelings pretty well:
Stupid pick by the Bears. a total non-need, and not the best RB available, not even the best RB available in his own conference (David Cobb)

— Hott Joe (@HottJoe) May 2, 2015
The Bears had made me angry yet again. But I needed to calm down and see what the Bears actually got in Langford. I knew that although I watched a lot of B1G football, I may have underrated him since Michigan State did not play Iowa this year, so I didn't get a comprehensive look at him. Now it is time to right this wrong and
watch his games against Purdue
and
Baylor
to see if Langford is secretly B1G Todd Gurley (Spoiler alert: He's not).
The good news is he appears to be a patient runner who knows how to follow his blocks. He doesn't just run as hard as he can into a pile when a little patience might allow something bigger to open up. I will say that the patience isn't always a good thing, as he sometimes gets caught just tiptoeing around and is an easy tackle instead of attacking. He can wait to a fault, where he has to learn in the NFL, he is going to have lane one or a cutback lane; lane three is closed for repair.
Because of this dancing around in the backfield, he often doesn't generate much power in his runs, so he often gets driven backwards when tackled instead of falling forward for extra yards.
Another positive is that he has impressive speed when he gets into the open field. This run against Purdue is a good example of that.
He gets the outside, easily breaks the tackle from the defensive back, and then puts on the burners as he goes down the sideline. This makes sense as his 40 time was one of the best in this draft class. Unfortunately,
his ability to cut and accelerate is pretty unimpressive as he was very poor in the shuttle and 3-cone drill
. I think those latter drills are far more important for running backs where quickness is more important than speed.
I mean, if he plays Purdue every game, he should have an incredibly successful career. Is that possible? It's not? Oh. Well, then things may be slightly more difficult. I don't see a lead back in Langford, but I do think he could be a solid backup. Langford just simply doesn't impress me. On talent alone, it is not a good pick. Considering it was the fourth round, in this loaded draft of running backs, with David Cobb still available, when the Bears were fine at running back but have nothing but holes on defense, this was a very bad pick. I just don't get it.