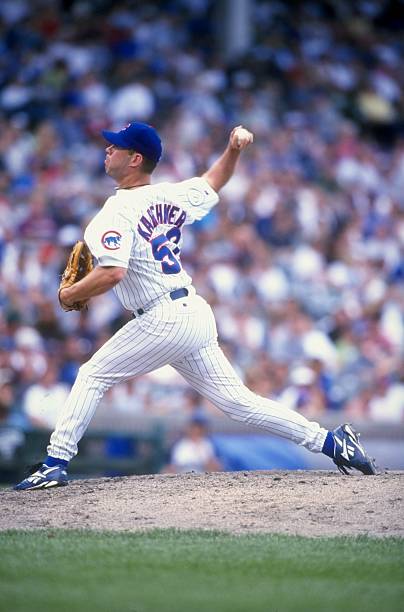 47. Matt Karchner
Matt Karchner is one of those guys that is unfairly hated by Cubs fans. He is a man that had good years in two out of his first three seasons, mostly based off smoke and mirrors rather than discernible skills, but hey, results are results, and he had fairly good results. This was enough for him to start getting save opportunities in his third year. And that made him good enough to be named the White Sox closer in 1998.
The Cubs were a team that was absolutely desperate for relief help. So the Cubs ignored the flaws. They ignored that in the middle of June, Karchner had an ERA of 2.84, but in less than six weeks, that ERA had ballooned to 5.15, because those stats are for losers, especially when a player has saves, and Karchner had 11 of them. So on July 29th, just before the trade deadline, the Cubs made their move and traded a minor league pitcher for Matt Karchner.
And that minor league pitcher is why Karchner is so hated by Cubs fans. Because that minor league pitcher ended up pitching in the major leagues, making an All-Star game and even finishing sixth in Cy Young voting in 2005. But outside of that, Jon Garland really wasn't anything special. Still, Cubs fans blamed Matt Karchner for every success that the White Sox found with Garland.
And that brings us to the second reason Cubs fans unfairly hated Karchner. He wasn't good at pitching. Now, nobody should have been surprised by this. I was 13-years-old when the Cubs acquired Karchner, and even I remember thinking that he sucked, so it was a bit surprising that the Cubs didn't notice the same thing. Karchner continued to pitch just about as well as he did for the White Sox. In fact, he even improved a little. For the White Sox, he had a sky high 5.15 ERA, but for the Cubs, he had a miniscule 5.14 ERA. PROGRESS!
It wasn't all bad, for a ten-day stretch in August, he pitched seven straight scoreless innings. After each appearance, Orel Hersheiser was sweating more and more as Karchner bared down on his record, but it was not to be as he gave up a home run to Delino DeShields in a game the Cubs would end up losing in extra innings.
Although he did not pitch in the playoffs, Karchner did manage to pitch 1/3 of an inning in game 163 to make the playoffs and did not allow a run.
After that, he managed another smoke and mirrors season where he had a 2.50 ERA with a 6.13 FIP in limited action for the Cubs. But the smoke and mirrors ended in 2000 when he put up a 6.14 ERA. He would be done pitching professionally at any level after that season.
As I stated, Matt Karchner is unfairly hated by Cubs fans. The fact that he was good enough to not only pitch in the major leagues, but succeed at times, is incredible. It's not fair to judge him on the magic not always being there, because he was never great by major league standards to begin with. In the intro, I compared these Cubs players to dogs in the sense that all dogs are the best dogs. Karchner is the foster dog that chews up shoes, barks at everything, and kind of smells. He can't help it; it's who he is. What I'm trying to say is it's unfair to hate Karchner for things beyond his control. I hope this article helps dissipate the hate...
...but yeah, I still kind of hate Matt Karchner.
Previous Posts:
Introduction