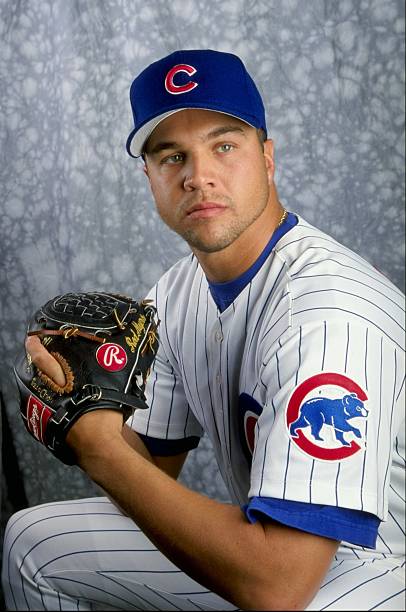 45.Rodney Myers
Every time somebody brings up Rodney Myers, I just assume that they are talking about Randy Myers, who was the Cubs closer in the mid-90s. Unfortunately for Rodney, he did have quite the career that Randy had, but they did both have runs in the bullpen for the Cubs.
1998 was Myers's third season with the team, but he spent the majority of the year in the minor leagues. In July, in an effort to shore up the bullpen (I might say that phrase 25 times throughout this series), they called up Myers. He immediately showed that he is the ultimate team player. With the Cubs up 9-3 against the Expos, Myers promptly gave up a single, followed by a home run. He managed to get an out, but not without two more runners reaching base. How is that being a team player? It set up Rod Beck to get his 28th save of the season when Myers was forced to exit the game. That's good lookin' out.
That put Myers ERA in a hole at a nice even 54.00. And that ERA would never dip below 6.17, and he would end the year at an even 7.00. Still, he managed to last the rest of the season, helped partially by rosters expanding in September. He pitched five games in September, and the Cubs would go on to lose all five of those contests, including a game where he gave up two runs in a one-run loss, and gave up four runs in a two-run loss. When absolutely every game mattered to the Cubs down the stretch, this man was black death.
But rewinding on his story makes it far more impressive. At the University of Wisconsin, he was a feared hitter who also pitched a little. Honestly, he may have been the worst college pitcher to ever get drafted. In three seasons, his best, and let me reiterate, BEST, ERA was 9.00. And it's not like he only pitched a couple innings. he pitched 16, 38, and 34 innings respectively in his three college seasons and just kept getting hammered. But he threw in the mid-90s, which was like throwing 100 these days, so he got drafted in the 12th round by the Royals. He defied all the odds by appearing in 167 games.
He would actually go on to have his best professional year the following season for the Cubs when he threw over 60 relief innings and had a respectable 4.38 ERA. The Cubs then used that good season by trading him to the Padres for Gary Matthews Jr. He pitched for the Padres and Dodgers after that before heading to Japan for a partial season and concluding his career in independent baseball. But considering he might be one of the worst college pitchers ever, it's an incredibly impressive career.
In case you missed it:
Introduction
#47 - Matt Karchner
#46 - Jose Nieves