I know what you're thinking, the Hawkeyes have NO chance of winning the Big Ten Tournament (which going forward will be known as the Steve Alford Invitational or SAI). But, oh, how wrong you would be. The Hawkeyes actually have a .003% chance of winning. Here is the mathematical breakdown of each Big Ten team's chances of winning the Steve Alford Invitational, courtesy of the excellent work done by
Basketball Prospectus
:
SD TEAM         QTRS   SEMI  FINL  CHMP
4  Wisconsin    100    83.4  51.6  34.1
2  Purdue       100    87.6  57.0  26.1
1  Ohio St.     100    84.8  41.3  24.5
3  Michigan St. 100    62.8  27.3   9.5
6  Minnesota     73.7  31.7  11.8   3.4
5  Illinois     100    16.6   4.4   1.3
8  Michigan      82.2  14.4   2.7   0.7
7  Northwestern  77.5  11.4   2.8   0.4
11 Penn St.      26.3   5.5   1.0   0.1
10 Indiana       22.5   1.1   0.1   0.004
9  Iowa          17.8   0.8   0.04  0.003
This video sums things up quite nicely:
And yes, there is a chance. Tomorrow at 1:30, Iowa plays Michigan. Yes, Michigan beat Iowa twice this year, but the Hawks went from getting completely blown out at Michigan to losing in overtime at home. I realize that Michigan has eliminated us the past two years from the SAI, but this Hawks team is too savvy to lose to these Wolverines. Since we were royally screwed by officiating in the second game, I'm going to predict an 8-point Hawkeye victory advancing us on to the second round to face Ohio State.
Now, here is where a very little known fact comes into play about our leader, Todd Lickliter and his performance in the Big Ten. No team has beaten Lickliter's troops three times in a single season. This will be Ohio State's biggest problem as they have already gotten two wins, and Matt Gatens plans to finally start trying and absolutely school Evan Turner. In fact, I actually have rough video of what it is going to look like if Evan Turner is dumb enough to try a layup around Gatens: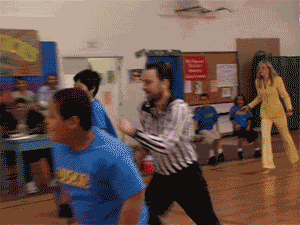 After Gatens dominates Turner, I say Devan Bawinkel hits a late three for a 39-37 victory for the Hawkeyes.
Then we get the winner of Wisconsin/Illinois. Illinois has everything to play for, and Wisconsin really isn't going to change much about where they're going in the tournament. Hence, I'll pick that douchebag, Bruce Weber to beat Wisconsin (mostly because we need him to). By the way, I really wasn't expecting
this when I Gooogle Imaged Bruce Weber
(although I can't say I'm surprised). Because of this new discovery, I predict an Iowa blowout, because they aint' losing to a bunch of naked fairies, 54-39.
In the final, it could be any one of six teams making it in, so I won't even try to predict who the Hawks will have to play. But Iowa will win, because of an unsung hero, a man that nobody is expecting, Brennan Cougill. It's his time to shine. He truly is our wildcard, bitches.

Cougill will get a near triple-double, that's right, I said it, expect 6 points, 3 rebounds, and 1 assist from the big man in a dominating win for the Hawkeyes, 38-31.
Here's the best news, the Hawkeyes will be put in the West division of the NCAA Tournament as a #14 seed to set up the matchup of the century when they play #3 seed New Mexico. Steve Alford only has one weakness, and it's #14 seeds, so buckle up, shit's about to get interesting.
-Joe
P.S. If you're looking for a good laugh, check out the roster on Wikipedia's page for the
2007-08 Iowa Hawkeyes Men's Basketball Team
. Although I love our assistant coaches, I think I laughed the hardest at big #53.