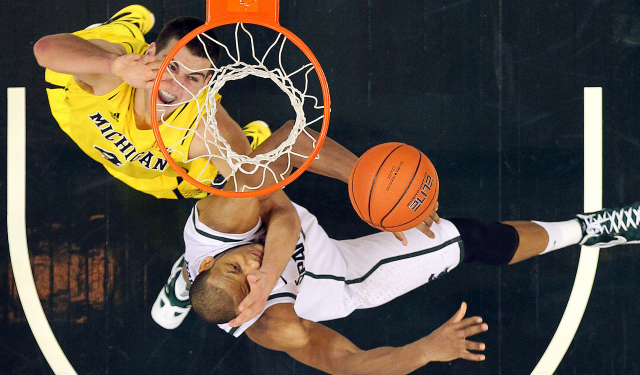 So I am not going to go nearly as in-depth as I did with my NFL Draft coverage, and I will freely admit that my ability to scout basketball pales in comparison to my football analysis. Still, I watch enough college basketball to find guys that I really like. I will admit that my list skews horribly towards the Big Ten, but that's who I watch the most, so I have the most confidence in what I have seen from those players. Still, there are a couple guys outside the B1G as well as an international prospect, because I've got to represent for Hrvatska.
Zach LaVine
- If there is a star to have after the first ten picks, this is the guy (although he is right on the border of being in the first 10 picks). Ridiculous athleticism and range for days. He's raw, and with that comes inconsistency, but the tools are there for him to be great. The chances he reaches his full potential may not be great, but they're not bad either. The only reason he isn't guaranteed to go in the Top-8 is that he was underutilized and misused at times at UCLA (their coach has a history of doing things like that, and I'm one of his defenders). Because of that, there is uncertainty with his game, but even if he is a terrible NBA player, he'll still be super fun to watch, and isn't that what's most important?
Roy Devyn Marble
- Homer pick? Maybe, but I don't see how he can't be better than Tony Snell. He has range, he can handle the ball fairly well, and he was the only guy on the Hawkeyes who could create his own shot. He's a guy who you can probably get away with at three different positions who will keep you in things for 20 minutes a game. Considering I have only seen him projected at the middle to end of the second round, that is really good value.
Mitch McGary
- He's an athletic guy with size. He has back problems, which is terrifying, but I'd take a chance on him. I don't think he's an All-Star, but I do think he could be a competent starting center who can run the floor which is something just about any team could use.
Adreian Payne
- Payne is a guy who is going to get downgraded, because he is a senior, but once you get outside the first five picks, upside starts meaning a whole lot less. Payne will never be an All-Star, but getting big man who can play defense and shoot well from the outside is an incredibly valuable piece to have. And here's the best part: He already is that player. Sure, consistency is an issue for any rookie, but he is going to flash that immediately and just get more and more consistent with it as time goes on. I have a hard time seeing a team not being happy with Payne.
Dario Saric
- I have never seen him play, but he is from Croatia. Since my surname comes from the same land, I cheer for all Croats with all my heart. If he falls to the Bulls, he could become the new Toni Kukoc and set the world on fire. It will be totally awesome.
Nik Stauskas
- I understand that Stauskas is pretty awful on defense, but he's pretty ridiculous on offense. He can do damage on or off the ball which means he can fit in anywhere. He's got decent enough handles and knows how to set up teammates, but the shooting is where he is going to make his money. I understand his defense is bad, but he's so much better on offense that I do not see how people could value Gary Harris over him. On top of all of that, Stauskas went from an awful body to a bad body in one year, so he might still get in better shape and improve his quickness.
TJ Warren
- His game is ugly, but it works. There is a lot of herky jerky motion, but he uses it to keep defenders off balance and he seems to always make it to where he wants on the floor. It's partially because he is comfortable in awkward spots, but the guy scores. It may not be pretty, but if you can score, they can find a spot for you in the league.