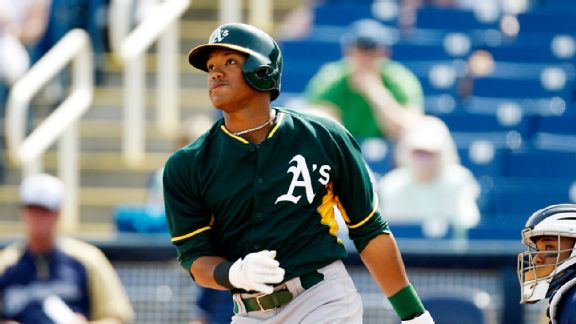 Two of the most talked about trade assets this season were Cubs pitchers Jason Hammel and Jeff Samardzija. People speculated what each might bring in a trade to benefit the Cubs' future. Last night, it came as a surprise that the Cubs packaged both of them together in a deal with the Oakland Athletics. The Athletics definitely made it worth their while as they sent over Addison Russell, Dan Straily, Billy McKinney, and a player to be named later.
The player to be named later is supposedly not consequential, so let's not worry about that. The next player to focus on is Billy McKinney who was aggressively pushed to High-A this year and has struggled but has also shown promise. His strikeout and walk ratios look good, and his biggest issue is that very few of his batted balls have fallen in for hits in what is usually a very friendly hitter's league. He was a first round pick in 2013, so he has the potential to be a starting left fielder.
Next up, there is Dan Straily. I'm way too excited about this aspect of the trade, because the Cubs' Pitching Coach, Chris Bosio, has done amazing things with a similar player in Jake Arrieta. Do I expect Straily to match what Arrieta has done this year? No, and he probably won't even come close, but that is more because Arrieta is off-the-chain amazing. Still, I think he could turn into a mid-rotation starter, and I think his worst case scenario is a back-end starter. It's not amazing, but that is a nice piece to get in this deal, as I wouldn't be surprised if he put up better numbers than Jason Hammel for the rest of this season.
Finally, there is uber-prospect, Addison Russell. With a talent like this, nobody will blame you as your heart goes pitter-patter at just the sound of his name. He's a good defensive shortstop with a bat that could make him a generational talent. This is the reason they packaged their pitchers together, as I did not expect the Cubs to get a guy at this level by trading just Samardzija. Still, there is one giant red flag with Russell, and that is that he has missed most of the season after tearing his hamstring. When I think hamstring injuries, I immediately think of Jose Reyes, and that is why this sort of injury terrifies me. It could turn out to be a one-time injury where he fully recovers and sees no other issues, but I can just about guarantee that the Oakland Athletics front office were concerned about its long-term impact, and that was part of the reason they were willing to part with a prospect who has the potential to be a generational talent.
So what does it mean for the Cubs future? Well, the most likely situation is that it gives the team depth in case some of these prospects don't pan out. Although Alcantara, Almora, Baez, Bryant, Russell, Schwarber, and Soler all have potential to be good-to-great major leaguers, inevitably, some of them are not going to reach their potential.
If they do all make it, that's a great problem to have. It's not impossible to imagine this offense by 2016:
C - Schwarber
1B - Rizzo
2B - Alcantara
3B - Baez
SS - Russell
LF - Soler
CF - Almora
RF - Bryant
That is the rosiest of outlooks imaginable, but even if only half of those guys live up to their potential, and they put average guys at other positions, it could still be a pretty potent offense. The Cubs front office has done a phenomenal job of acquiring talent to build towards the future. It has not been a quick process, but it has been a thorough one as the Cubs minor league system is absolutely loaded.
That still leaves the pitching side of things where Cubs fans seem to be worried, but this is an area where the Cubs front office has shown an aptitude for finding hidden gems for cheap. Even with these gems, it still only led to about a #3 starter in cases like Travis Wood, Jason Hammel, and Scott Feldman, which although nice, is not ideal in the playoffs. But the Cubs also acquired Jake Arrieta who has pitched like a legitimate ace this season, and it changes the whole outlook of the future of the rotation with a true #1 leading the way. Also, as I mentioned earlier, Chris Bosio has done a great job as the pitching coach, and if he can keep doing what he's been doing, finding quality pitching might be easier than expected.
And the Cubs also have a trade asset that I have not even mentioned yet in Starlin Castro. After a terrible year last year, he is back to fulfilling his initial promise. Worst case is they need to keep him as prospects don't pan out, but best case is that these prospects do pan out, and the Cubs can get a high end pitching prospect to add to their farm system. It seems unlikely that the Cubs would trade him this season unless they really don't believe in him to continue his performance, because he's signed through 2019, so he would still have incredible trade value two years from now. Javier Baez has not done enough to bump Castro the the outfield, so there is really absolutely no reason for the Cubs to rush to get rid of him unless they get an offer that is too good to pass up.
The Cubs from these last couple years have been the best bad team in baseball. Their record is awful, which definitely makes them a bad team, but their run differential shows that they are far closer to average than to the basement of MLB. Replacing the black holes on offense, filling in the rotation, and strengthening the bullpen don't require Herculean feats, it requires manageable tweaks, and the Cubs have more than enough talent to make that a reality.
The future is bright, but it is also not imminent. Even with many of their top prospects due to debut in Chicago in the next year, there are going to be growing pains. 2015 is the year to expect a step forward where they can play around .500 ball. But 2016 is the year to expect the leap into being a contender. Be sure to get your shades on by then, because the future will only get brighter from there.
I can't believe I'm saying this, but, it's good to be a Cubs fan.