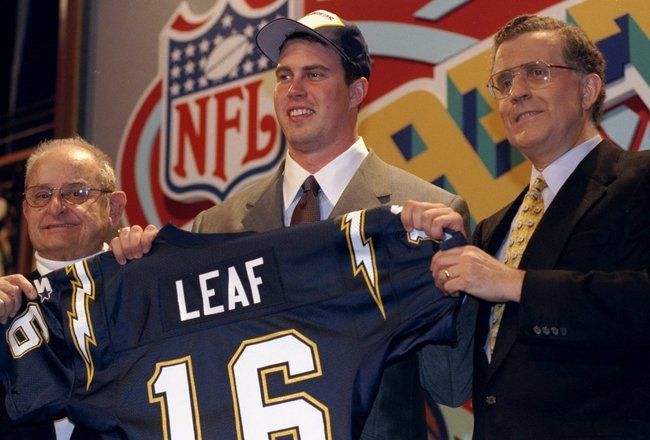 If you do not have a good quarterback, you should always draft a quarterback, and you should try to do it as early in the draft as possible. It is better to draft a bad quarterback than to go with another position, because you need a quarterback. Everybody is terrified of drafting the next Ryan Leaf, but when it comes to building a roster, I would rather have the boom or bust players than wallow away in mediocrity.
You will know that a quarterback is not going to work out within two years. That means you are only ignoring that position for one year.
Think about the Texans. They drafted Jadeveon Clowney, and even had Clowney been what was expected of him, they would have snuck in the playoffs and been ousted in the first round as they simply didn't have the quarterback necessary to be a threat. Now that they are a good, but not great team, it is going to be much more difficult to find their answer at the quarterback position.
Hell, you could even take the Rams. They drafted Aaron Donald who was the best defensive rookie this year, and maybe the best rookie overall (I know Odell Beckham Jr. was a rookie, but Aaron Donald really was that good), but even with their defensive line playing like the best unit in the league down the stretch, what is their ceiling with their current quarterback situation?
Now, obviously the Donald pick worked out, but wouldn't it have helped to take a chance on a guy in round two? Jimmy Garoppolo is the type of high-risk, high-reward player that would have been worth the Rams taking a chance on in the second round? While admitting that I was higher on Garoppolo than most, I still think he would have been fairly rough this year, but that experience could have helped make him the quarterback they needed in 2015 and beyond. If he showed to be truly awful, you can still give him another year to prove himself while taking a chance on a mid-round guy like Shane Carden of East Carolina.
Although I advocate taking a quarterback as early as possible, there are a few exceptions as Russell Wilson fell to the third round, Tony Romo was an undrafted free agent (although the Cowboys went above and beyond with their signing bonus to make sure he went to Dallas), and Tom Brady famously fell to the sixth. Tom Brady is the ultimate outlier, so expecting your team to be that
brilliant
lucky is delusional. Tony Romo came out in 2003, and the NFL has gotten SOOOOO much better at recognizing talent from smaller schools that he would likely have been at least picked in the top three rounds if he came out today (just look at Jimmy Garoppolo for proof). Wilson is the best example, as he is the most recent, but the Seahawks lucked out that the Eagles didn't trade up to ensure that they were able to draft him, as the Eagles and Russell Wilson were in love with each other going into the draft (Daniel Jeremiah, who was a scout for the Eagles at the time, mentioned that Wilson would text him about how excited he was for the Eagles to draft him so he could bring a Super Bowl title to Philadelphia).
But looking at all the good teams from the last few years, nearly every one of them drafted their starting quarterback. Nobody is trading away good quarterbacks, so a team has to wait for the perfect storm to hope the team lets a good quarterback walk away in free agency. Those outliers are Drew Brees and Peyton Manning. Brees was a late bloomer (so the Chargers drafted Philip Rivers, making Brees obsolete) coming off of a major shoulder surgery. Manning had a serious neck injury where people thought that he would never regain enough arm strength to be effective and that he may just be one weird hit away from retirement. Even with the Broncos signing Manning, they
still
drafted a quarterback in the second round.
Yes, a team can hope a quarterback falls in their lap in free agency, but hope is not a plan. Scouting a quarterback and finding ways that you can accentuate his positives while minimizing the negatives is a far more likely path to success.
With all that being said, it is much easier to take quarterbacks in the draft in theory than it is to actually go through that plan in practice. General managers can't afford to whiff on a quarterback, because it is such an important decision. No decision will get scrutinized more, and the GM will primarily be judged off that single decision, so if it doesn't work out, he's likely going to lose his job. That is why everybody has to be on board with the plan, so a general manager can take the risks necessary to pursue greatness as opposed to goodness.
Everybody talks about what a bust Ryan Leaf was, but was it really a bust for the Chargers? His incompetence led them to LaDainian Tomlinson and Drew Brees. They took one step back to take one giant leap forward. If that's what a bust looks like, then sign me up.