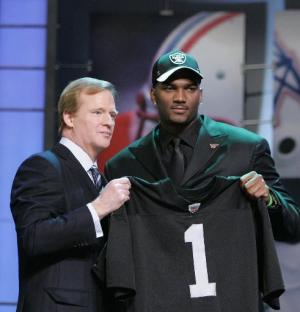 It's NFL Draft time, which means it's time for an NFL Draft LIVE BLOG! I'll be updating this all night long to keep people updated on my thoughts as the draft goes down. All times are in CST.
6:57 - Here is my list of quarterbacks that I actually scouted before this draft:
1. Andrew Luck – He's the best.
2. Robert Griffin III – He'd be the best if the best wasn't in this draft.
3. HUGE DROPOFF – Because nobody is close to these guys.
4. Ryan Tannehill – He's physically gifted, but there is a lot of bust potential. No way I would touch him until late in the first round.
5. Russell Wilson - Good athlete with solid arm.
6. Kellen Moore – He's so good in scanning the field and accuracy that there has to be a good spot for him. Still, there is such limited potential that I can't put him higher than this.
7. Brandon Weeden – I was thoroughly unimpressed with him. Lots of quick routes, and the balls he threw downfield were really just trusting that Blackmon would go up and get it.
8. Kirk Cousins – Poor mechanics lead to poor accuracy. I don't see that changing anytime soon.
9. Nick Foles - I'm basically just throwing darts with these last four, so yeah, he ends up here.
10. Brock Osweiler – Watching him throw a fade with no loft was all I needed to see. He has zero touch on his throws.
7:03 - Here is a brief synopsis of my favorite prospect in the entire draft:
Alfonzo Dennard
I love this guy. He makes receivers lives very tough by being excellent at jamming them at the line of scrimmage. Maybe his straight line speed isn't great, but there isn't a ton of times where he will be facing fly routes against speedy receivers. Also, before the draft last year, Niles Paul (Nebraska Wide Receiver) said that the toughest person he ever faced in college was Dennard. He played against Prince Amukamara, but he said Dennard was tougher than Amukamara. Amukamara was a first round pick, and yet Dennard might not be taken until the third. I'd love to see the Bears take him in the second round.
7:06 - Colts select Andrew Luck. Now they just need some wide receivers, a tight end, an offensive line, some d-lineman, a couple linebackers, and a secondary, and they'll be set.
7:21 - The Browns got their guy which is good, but bravo to the Vikings for being able to get the guy they want as well as picking up three extra picks. Hopefully they use this pick on Iowa Punter, Eric Guthrie.
7:33
- I would rather have Blackmon than Julio Jones. Jones is the better athlete, but Blackmon can actually catch the ball consistently. He showed good body control and he goes up and snatches it. I don't think Blackmon is as talented as Dez Bryant, but Bryant has battled injuries, and has not been utilized to his full potential in Dallas. Blackmon should produce early on.
7:35
- I can't believe that Dallas got number six for so little. Just adding a second rounder is a great deal for the Cowboys.
7:37
- OUR FIRST COMMENT! Feel free to add more. Thunder9 suggested that I put this on Cover It Live. Well, it's too late now, but excellent advice for next year.
7:39
- I think Claiborne is very good. I don't think he is as good as Patrick Peterson who I was head over heels in love with last year.
7:49
- As I stated yesterday, I'm not a big Tannehill fan, but I see the positives in him. There is a lot of upside. Mel described him as good size, smart, and competitive. Christ, none of those are actual skills. I just don't trust his decision making. With that being said, I will make a bold prediction and say if him and RGIII start the whole year, Tannehill will have more rushing yards than Griffin.
8:07
- I didn't really have time to watch Memphis, because they're Memphis, but all the word on Poe is that he didn't really do much in college. That is a big concern for me. Why will he be more motivated now that he is getting paid than he was last year when he should have been playing hard so he could get paid? Workout warriors are always stay away guys for me, but I did love the Bears defense when they just plugged up the middle with Sam Adams and Ted Washington, so there is some value to just having big dudes in the middle of the line.
8:38
- Mike asks if I love Fletcher Cox from Mississippi State? Well, I don't really know enough about him. I heard a lot of positive scouting reports, and most of the people that I trust had him going at #7 in this draft, so it was a good get for the Eagles when he fell that far. From the limited amount that I saw, he should be solid, but I have no clue on the upside. Keep those comments coming.
8:41
- I have no clue how DeCastro is still on the board. A part of me wants him to fall to 19, but a part of me is positive the Bears won't take him even if he does fall to them. I'm really torn, but DeCastro is awesome.
8:53
- The moment of truth. Will the Bears draft DeCastro? God, I hope so. Build through the lines, Bears. He's a monster. Please, do it. Come on. Don't let me down.
9:00
- Holy shit. I did not see that one coming. Um, okay, I guess. Eh. Blah. This is not what I wanted.
9:07
- I really love the Kendall Wright pick. Dude is awesome. Steve Smith starter kit. The good Steve Smith, not the bad one.
9:12
- Brandon Weeden goes three rounds too high. Good for him. The Browns are the losers of this draft so far. I like Richardson; I don't like giving up three picks to move up one spot. And I just simply don't like Brandon Weeden.
9:19
- Well, the draft couldn't have worked out much better for the Lions. They needed a tackle, and one fell in their lap.
9:20
- And the Steelers take DeCastro, shocking that the Steelers would draft well. God damnit.
9:22
- Patriots adding Chandler Jones and Dont'a Hightower, which are both really good picks for the Patriots. They might have a real defense next year.
9:45
- I'm almost never a fan of drafting people from Notre Dame, and this is one of those cases. I know Notre Dame is the greatest and they win the National Championship ever year, wait...what? They don't. They actually have kind of sucked lately. Oh, yeah, then this guy will probably suck too.
9:52
- I know a lot of people were not expecting him to go that high, but I really liked the A.J. Jenkins pick for the 49ers. Scheelhaase was not a good passer, but Jenkins got so wide open that there was no way he could miss him. I thought he would be a steal later, but he's still a good pick early on.
10:12
- And that wraps up the first round. All I've got to say is #DennardToBears