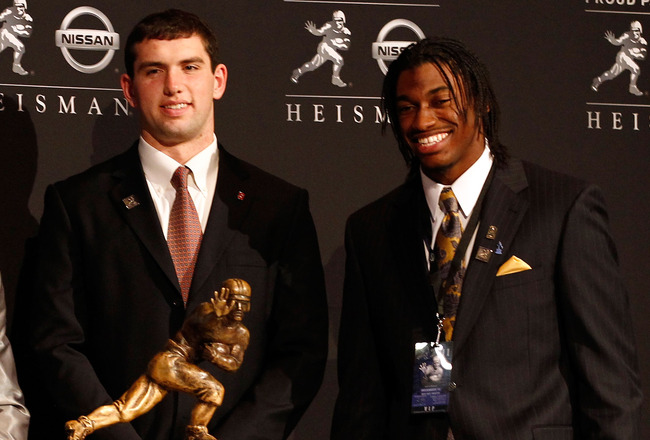 I love the NFL Draft. As a Bears fan, it is my one moment of hope throughout the year. Yes, some think the Bears could be contenders this year, but Jay Cutler is their quarterback, so they really don't have a chance. Speaking of quarterbacks, I decided to scout some of the bigger names coming out for the draft this season by watching a couple games of tape to give me a better idea of what they do well and what they struggle with. For the most part, these are just my notes while watching these guys play, but it should give you a fairly good overall picture of each prospect.
Andrew Luck
He's damn near perfect. I can't add anything to the conversation. I have raved about him
here
,
here
,
here
, and also at bars across the USA.
RGIII
So every time I really watched Baylor play, I was more just enjoying the football instead of trying to break down anyone in the game. I thought the RGIII hype had really spun out of control, so I decided to watch some quick videos of his. I watched his performance against
TC
U
as well as Texas.
I was very impressed with his vision. Most of the offense is designed for a quick read and throw which he executes very well. When that first option is not open, he is quick to scan to his next option, often on the opposite side of the field, and quickly fire the ball. He showed a good feel for leading his receivers open.
Um, Good God, he throws a beautiful deep ball. Not only are his throws in stride, but he also does a good job of getting safeties to cheat up by turning his shoulders to an underneath receiver, and then quickly setting up to bomb out the deep ball.
He was rarely pressured. Sometimes, he reacted well by keeping his eyes downfield and continuing to look for open receivers. Other times, it led to some questionable throws. There just wasn't a whole lot to go off of with pressure, but he handled the limited examples fairly well.
He seemed fast, but not elusive. I don't see him as the same running threat as Cam Newton, despite his speed advantage.
I did not expect him to be this good. I still favor Luck, but if RGIII had come out any other recent year, he would be the number one pick in the draft. That is not saying that he will be able to perform better than what Cam Newton did in his rookie year, but I had far more questions about Newton than I do with Griffin.

In other news, Kendall Wright is really, really good. He plays fast, does a great job of creating separation, and also is excellent at adjusting to the ball. Whoever drafts him will be a very happy team.
Ryan Tannehill
Tannehill may be more of a running threat than Griffin, because I think his vision in the running game is better.
Good arm and release.
His initial reaction was to bail out, but then he got away from the pressure and looked down the field and fired.
Has a tendency to stare down his receiver just a little too long.
Not impressive deep ball, and some really poor decisions. He just has no feel for it.
Average accuracy overall. I didn't see him leading receivers open, and he was inconsistent on throws that you would expect a top ten pick to make.
Lots of dumpoff passes where receivers are required to make plays.
I know quarterbacks wins and losses are not a great barometer for success, but they do still interest me. Not to the point of "DUR, this guy's a proven winner, DUR," but still interesting. Tannehill has been knocked for not winning big games, and what I saw was him not getting help from receivers down the stretch. I don't see it as anything to worry about at the next level.
Brandon Weeden
Very comfortable in the pocket. If he has time, he's going to use it instead of settling for an underneath pass.
Poor decisions under pressure. Tried to throw over the middle off his back foot which led to very dangerous passes.
Occasionally seemed to not trust his read and it made him wait about a half second to make his throw.
So many short passes in this offense.
I definitely question his arm strength. His ball floats a little bit, and they really utilized very short passes which did not often challenge him. He left some balls up in the air for a while, relying on Blackmon to jump up and get them.
That's all I have for now, but I will be posting something tomorrow on other quarterbacks who are getting a lot of talk leading up to the draft.