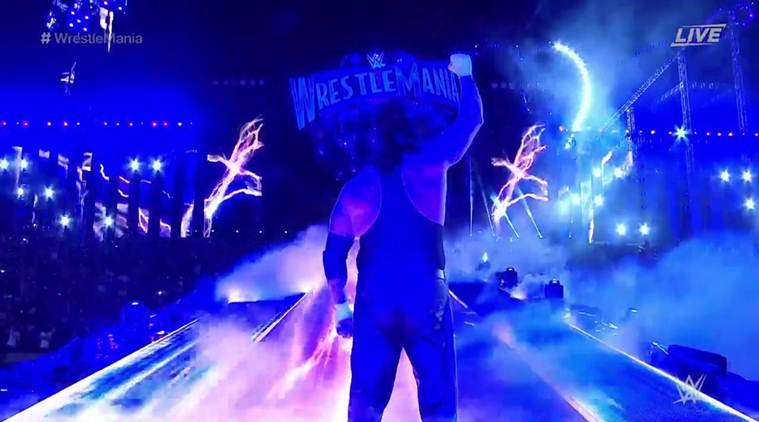 I am about five months younger than WrestleMania. After 30 years of being a wrestling fan, I made my first trip to
WrestleMania out in San Jose/San Francisco for WrestleMania 31
. It was pretty damn incredible. I know that makes me a giant nerd, and I am totally cool with that. Wrestling doesn't need to be cool, because it is hilarious and occasionally awesome. Two years later, it came to Orlando, and since that is less than two hours away, I knew that I would be making my second WrestleMania trip. Starting on Thursday, I saw WrestlePro, the WrestleCon Supershow, NXT Takeover, and of course, WrestleMania 33. Although I may be a nerd about wrestling, even I have to tap out after four nights of events, so I chose not to go to Raw or Smackdown. But I still saw a hell of a lot of wrestling, and today we move on to part two with some ECW staples and a surprising person going hardcore.
30. WrestlePro - World Champion Bobby Wayward def. Anthony Bowens, Sonjay Dutt and Matt Macintosh
This was a good match, but I'm a whore for name recognition. Obviously, I knew Sonjay Dutt but hadn't heard of the other three guys, and it's hard to get totally invested in brand new guys unless they do something insane. It was still a good match but probably not a memorable one.
29. WrestleCon Supershow - Low-Ki def Shane Strickland
This match was good but also a little disappointing. I kept waiting for it to really hit that next gear, and it kind of stagnated with good chain wrestling but never the craziness that I would have expected. The ending was good, but I would have liked to see more offense from Strickland to take the match up a notch.
28. WrestleMania - Roman Reigns def. The Undertaker
I was never an Undertaker guy, so this match didn't exactly do it for me. It was fine, and as fine of a match as you can expect from someone who realistically should have retired five years ago. Roman won; that was the right decision, and I'm happy he did it in convincing fashion, but his five-word promo on Raw will be far more memorable than anything from this match.
27. WrestleMania - John Cena and Nikki Bella def. The Miz and Maryse
So this was the most cookie-cutter wrestling match of the weekend, but The Miz kind of saved it by making it a lot of fun. The end was never in doubt, but sometimes charisma can carry a rather nondescript wrestling performance. Good for Miz. Also, it's tough to top the evidence that true love exists.
26. NXT - Oney Lorcan defeated El Vagabundo
All anyone is going to talk about this match is that El Vagabundo was actually Elias Samson the whole time, but this was actually a pretty good match, even without the enjoyable stupidity of El Vagabundo. But yeah, El Vagabundo is great. I've been way higher on Elias Samson than most people, so I think he's finally got everything he needs to become loved by the NXT Universe.
25. WrestlePro - The Blue World Order def. Team WrestlePro
Yo, Stevie Richards is still in great shape. Although I don't think I'm quite ready for DDP Yoga yet, my fitness journey will inevitably lead me to DDP Yoga. The Blue Meanie looks exactly like you would expect, and Nova, well, let's just say he got off the Simon Dean plan and got on the Jimmy Dean plan. Was this some amazing match? No, but it was fun, and Team WrestlePro had Mario Bokara, a super proud Croatian, who, as a fellow Croat (25%, yo), was my favorite wrestler. I wasn't even an ECW guy, but this match worked for me.
24. WrestlePro - Swoogle def. Grado
I had zero expectations in this match, but it was actually pretty damn good. Grado is stupid and fun, and Swoggle got to play the tough guy and hit a bunch of German suplexes. As Broken Matt Hardy would say, it was "Wonderful." My biggest issue is that I had "Like a Prayer" stuck in my head for the next two days. I forgot how catchy that damn song is.
23. WrestlePro - Ryback def. Colt Cabana
So a lot of guys that leave the WWE for the indy scene, like Cody Rhodes, Drew Galloway, Johnny Mundo, etc. take their games to the next level when they are given a chance to shine. You're really only allowed to do so much in the WWE, and a change of scenery greatly helped those guys show how unbelievably talented they are. With Ryback, you get what you get. That's not a knock on Ryback, but he's your classic WWE big guy wrestler. He's going to deliver his power moves, throw a flying cross body when things get crazy, but never give you any holy shit moments. That's what this match was. Colt Cabana made it fun, but Ryback was going to win and he did, finally getting revenge on CM Punk blasting him on the Art of Wrestling.
22. WrestlePro - Jeff Cobb def. Fallah Bah
I am so high on Jeff Cobb it's ridiculous. Even if I didn't know anything about his Lucha Underground work, the dude is a former Olympic Wrestler, and that alone makes me know that this guy could become a huge star. He is so stupid strong that it is absolutely awesome to watch him wrestle. He took on Fallah Bah who looked to be near 400 pounds, but Cobb still powered him over in a suplex. Also, Fallah was pretty entertaining as Cobb was trying to knock him down, and he heartily replied, "No, no, no." The only thing catchier than, "Like a Prayer' is yelling "No, no, no" anytime you disagree with something.
21. WrestlePro - Brandi Rhodes def. Joey Ryan to win the DDT Ironman Heavymetal Title
Brandi Rhodes is a very attractive lady. That does not make her a great wrestler. But it's not like she's spent years crafting her talents on the indies, so she is what she is for right now, which is not good, but she may get better. Still, Joey Ryan is the perfect foil for any female opponent as he's good enough in the ring for any move to happen, and he can add entertainment outside of the wrestling to keep fans entertained. Still, this match came down to one thing, Brandi Rhodes getting dropped on thumbtacks. Obviously, when thumbtacks came out, everyone expected Joey Ryan to be dropped in them, but they did a swerve, and there was a split second of silence before everyone erupted in cheers. Plus, she ended up overcoming all of that to submit Joey Ryan to win the HeavyMetal Title.