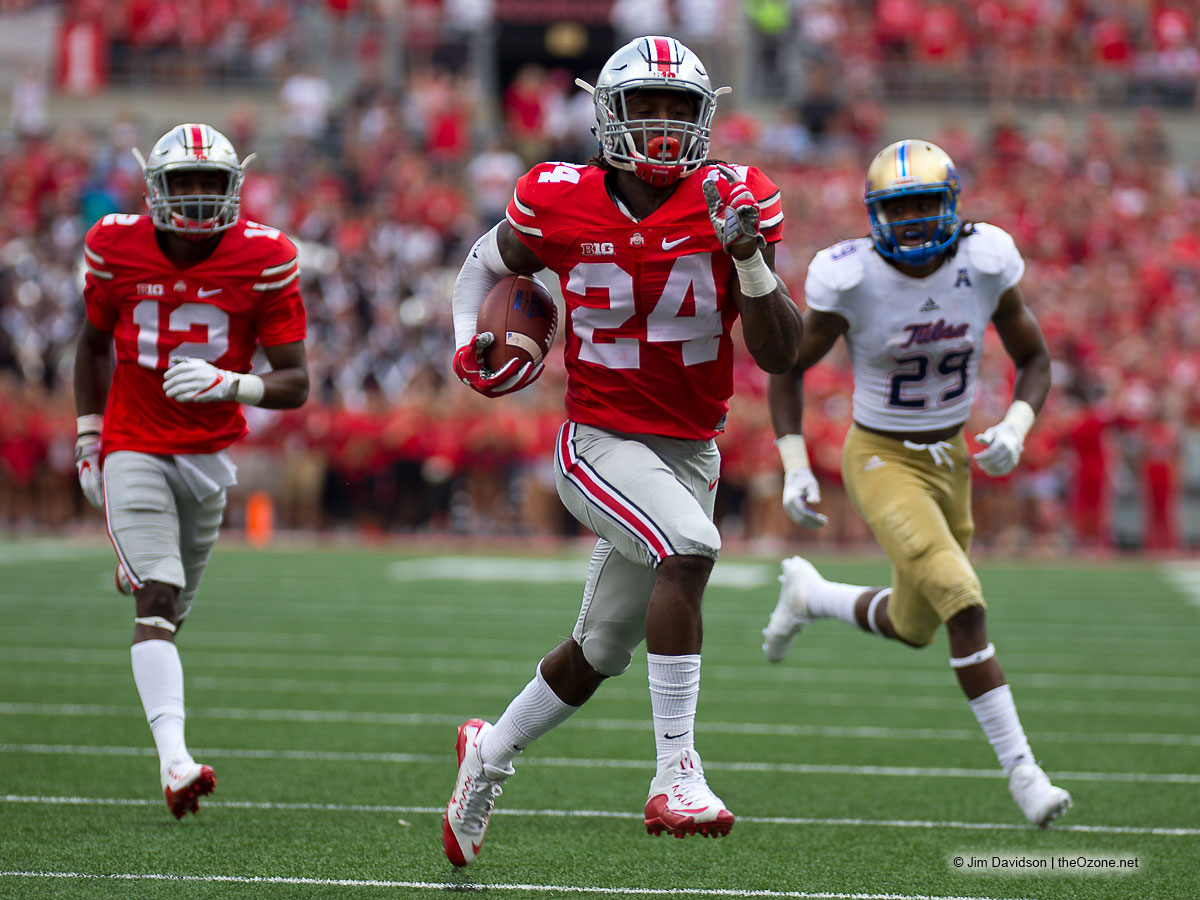 The draft is almost upon us. Hopes and dreams are alive. Will they be dashed this weekend? Most likely, but right now, I am feeling great about the future. The Bears are going to make smart trades, take great players, and build a Super Bowl contender. Okay, so even if they do the first two, they have so many holes that the latter simply ain't happening. But how can they get off to a good start? Let me break down the three best options.
3. Solomon Thomas - Defensive End - Stanford
You know what gets me excited? Guys who sometimes don't look as if they're human. And Solomon Thomas has a lot of those plays. It seems that when he decides he's going to destroy the world, he goes out and destroys the world.
Although Solomon Thomas's build is more ideally suited for a 4-3 defense, I think he's big enough as a 3-4 end to hold up against the run while absolutely causing havoc in the passing game. Also, from what he's shown on the field, he's so good that he can be good no matter your put him.
Before I really started looking at guys, I had Jonathan Allen ahead of Thomas, but after watching tape, I just loved the explosion that Thomas showed. That put them close, and honestly the deciding factor was Allen's abysmal combine numbers. It's rare for someone with those sort of athletic numbers to make a big impact, and with the third pick in the draft, I don't think it's worth the risk.
2. Malik Hooker - Safety - Ohio State
Malik Hooker is the most sure-thing Pro Bowler in this draft. He is ideally built for today's NFL, and his skill-set is one that will make an immediate impact on the team that drafts him. He's got incredible range in the secondary, and he has the instincts to be an ideal ball-hawking Safety. He's already learning to bait quarterbacks into throwing it his way. Oh yeah, and when he does get an interception, he is looking to score, as he is dynamic when he gets the ball in his hands.
The skills he has translate to any level for any team. The biggest reason the Seahawks have a dominant defense is Earl Thomas, and that is what Malik Hooker could be for the team that drafts him. I know that Safety is nowhere near the Bears biggest need as they actually have solid options, but you don't pass up on the next Ed Reed because you have solid options. I would be ecstatic to see him join the Bears.
1. Mitchell Trubisky - Quarterback - North Carolina
Is this a risk? Without a doubt. In fact, it's by far the biggest risk. But there is no such thing as a perfect quarterback prospect. At first, I was a hater.
Mitchell the Bitchell
were what all the kids were calling him. Why did he only start on year? I mean, that's a pretty big red flag that he couldn't beat out Marquise Williams. But I kept my ears open and heard that Coach Fedora kept Williams as the starter, because of his leadership. As an Iowa fan, that sounds like something Kirk Ferentz would definitely do, so I believe it. And when Trubisky did play in 2015, he was 40-47 for 555 yards and 6 touchdowns.
But really, it's what I saw on tape. Nobody is really pointing out deficiencies in Trubisky's play. He wasn't as good against the top notch competition, but yeah, that makes sense, because those teams are better on defense. The only game where he really struggled was Virginia Tech. That was a game with heavy rain, and even though Trubisky was not at his best, his teammates didn't help him out at all.
Really, the best teams that he faced last year were Florida State, who he absolutely torched, and Stanford, where he may have not had pretty stats, had a couple picks, but he was also dropping some dimes that receivers were not helping him out on.
There is also the argument that he can't come through in big moments. I mean, just look at this last drive (starts at 6:28) against Stanford.
Here's what happened.
44 yard strike down the sideline.
Nails his receiver between the numbers in the end zone but it's dropped.
Drops the ball into his receivers hands in the end zone but it's dropped.
Nails his receiver between the numbers to put it at the 1-yard line.
Throws a beautiful back shoulder fade but it's dropped.
Rolls to his right, nothing is there, so it's a broken play. He spins past a defender, ends up 18 yards behind the line of scrimmage and then throws across the field a strike that hits his receiver between the numbers for a touchdown.
What more do you want from the guy? He has all of the traits you would look for in a quarterback. Accurate throws, good arm strength, excellent pocket presence, and an ability to quickly scan the field. The consensus is that #3 is too high to take a quarterback in this draft, but fuck consensus. Trubisky has game changing skills, and the Bears would be lucky to have him with the third overall pick.