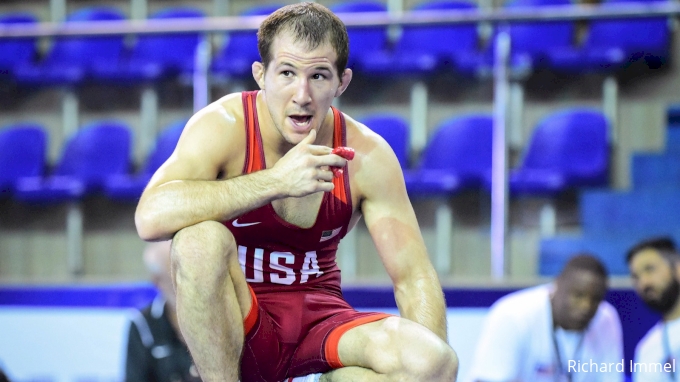 I went to the UWW Freestyle World Cup in Iowa City, and it was awesome. In fact, it got me so amped up that I'm going to be coming at you with a bunch of wrestling content. I'm ranking the top five guys at every weight class, and today we move on to 65 KG (approximately 143 pounds). Let's get to it.
5. Ryan Deakin
Deakin makes this list, mostly since Yianni Diakomihalis will probably not be able to wrestle this year. Deakin is solid as he had some good results at lower levels, but I cannot see him coming out on top at a weight class with some very good options at the top.
4. Joey McKenna
McKenna has elite defensive skills, and he showed that this past year when nobody scored on him during the B1G Tournament. Still, the offense isn't quite up to that elite level, and he was unable to come out on top at the NCAA Tournament. Still, he was good enough to be an alternate at this weight during the World Cup, so clearly, Team USA has some faith in him, but I'm not quite ready to buy what he is selling.
3. B.J. Futrell
BJ Futrell is the gatekeeper. He keeps everyone out of the top spots. When you can beat Futrell, you can have the opportunity to represent the United States. It is not a glamorous position, but Futrell is a tough out, and I do see him as still retaining his spot as our country's third best option at 65 KG.
2. Zain Retherford
This is where it gets real. I definitely had this order reversed when I initially ranked the guys, but the more I thought about it, the more I convinced myself that Zain is not quite ready to take over as the man at this weight class. It's counter intuitive since Zain did represent the United States last year at this weight, but even though he was dominant this past year in college, he seemed to tighten up in big matches instead of opening up like he was usually able to do. Although he has been the top guy, I see a former nemesis moving up in weight and taking that spot from him this year.
1. Logan Stieber
When he was a senior, Stieber was upset by Retherford, who was only a freshman, but he bounced back to beat him when it mattered and secured a fourth NCAA title. Stieber has been consistently competing at freestyles since then where Retherford has been bouncing back and forth between folkstyle and freestyle. Although the styles are similar, I do think Stieber has gained better experience, not only because of the stylistic differences but also competing consistently against guys who are the best in the world. I think a match between these two will be incredibly close, and I wouldn't be surprised if it goes to a decisive third match, but I have to give just the slightest edge to Stieber.
Previous Entries:
57 KG