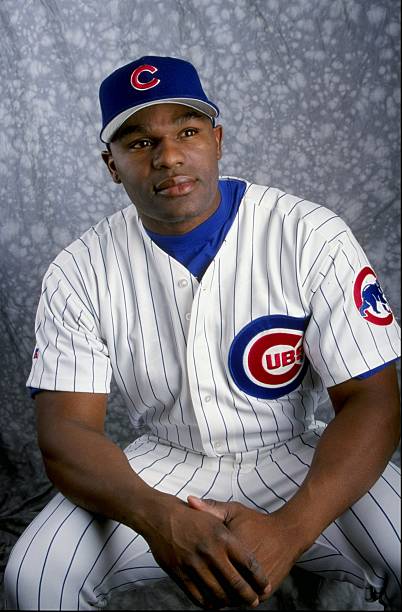 38. Derrick White
Derrick White's career makes no sense. I keep looking through things, and there is no rhyme or reason to anything. He was drafted by the Expos after a very good final year at Oklahoma and sent to play short season ball for the rest of 1991. In 1992, he skipped both levels of A-ball to play the entire year in Double-A. He put up decent numbers. Then, in 1993, he played in High-A, Double-A, and Triple-A before getting a callup for 23 games for the Expos. In 1994, he struggled in Triple-A, got released by the Expos, signed by the Marlins and sent down to Double-A. In 1995, he signed with the Detroit Tigers, played the majority of the year at Triple-A but also got 39 games with the Tigers. Then, in 1996, he signs with the Oakland Athletics and spends the entire year between both levels of A-ball. I thought there were rules against guys being that old (26) and in low-A. In 1997, he spent the year at Double and Triple-A for the Angels before signing with the Cubs in the offseason.
White went to Triple-A Iowa and put up his best numbers ever, torching the league to the tune of 1.112 OPS in 66 games for the team. His torrid pace earned him a callup at the end of May. Things continued to be weird for White. He played in 11 games for the Chicago Cubs and got a total of ten at bats. In nine of those at bats, he failed to record a hit. Five of those times, he failed to even make contact. But one at bat was different. In one at bat, Derrick White unleashed his potential, and that is what is important to remember.
The date was June 6, 1998. The Chicago Cubs hosted the Chicago White Sox at Wrigley Field in just the second year of interleague play. A pitcher's duel was expected as Scott Eyre took on the Cubs' Kevin Tapani. It played out that way for the first two innings as both teams were held scoreless. The White Sox were the first to put a run on the board in the top of the third when Ray Durham hit a double and was driven in by Mike Caruso.
But the Cubs would not go down easily. They strung together a ton of singles and took advantage of a Frank Thomas error to score three runs in the third. They continued the momentum in the fourth when Jose Hernandez hit a solo home run. Things were looking great for the good guys. In the 5th, the White Sox inched closer when Mike Caruso drove another run home. In the sixth, the White Sox made their move as Robin Ventura tripled, Magglio Ordonez singled, and then Charlie O'Brien hit a home run to give the White Sox a 5-4 lead. It may have only been the sixth inning, but this game looked like it was over.
Eyre had calmed down and appeared to be cruising. He dispatched of Henry Rodriguez easily. Then, something truly inexplicable happened as he found a way to walk Jose Hernandez. It looked like it wouldn't matter when he got the second out by making Scott Servais ground out. Instead of ending the inning against Kevin Tapani, Jim Riggleman made a bold move. He brought in Derrick White, a man who was 0-5 with three strikeouts on the season. Only a fool would make such a folly as a manager, but Jim Riggleman was no fool. Scott Eyre smirked to himself as he saw White stroll to the plate, but his overconfidence would be his downfall. Eyre left one over the plate, and Derrick White connected. It was high; it was deep; it was gone. Derrick White would give the Cubs a one-run lead in a game they would go on to win 7-6. He may have gone 0-9 in his other at bats, but his one hit was instrumental in getting the Cubs to the playoffs that year.
White seemed like a guy who would quickly wash out of baseball, but he found a way to hang around the game. He never made the major leagues again after 1998, but he bounced around from Triple-A, independent ball, Korea, Japan, and found his home in Mexico where he tore it up for Tijuana until finally retiring in 2009. It may have not been the career he dreamed of, but it definitely had its moments.
In case you missed it:
Introduction
#47 - Matt Karchner
#46 - Jose Nieves
#45 - Rodney Myers
#44 - Justin Speier
#43 - Tony Fossas
#42 - Kennie Steenstra
#41 - Chris Haney
#40 - Bob Patterson
#39 - Pedro Valdes