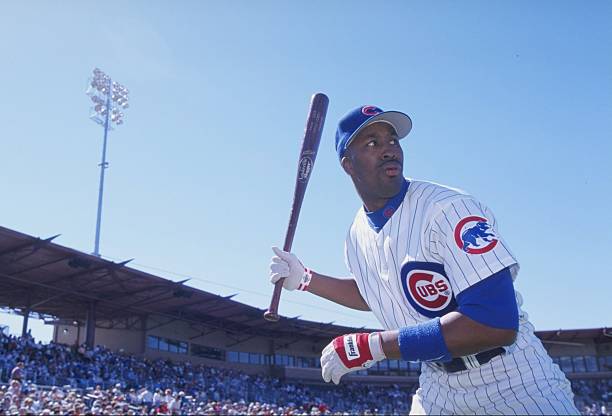 36. Terrell Lowery
Terrell Lowery may be the greatest athlete on this entire list. He played D-1 college basketball for Loyola Marymount which may not sound impressive at first glance. But this isn't the Loyola you know today. It was the Loyola that was led by Paul Westhead to have the most explosive offense in the nation. In fact, Lowery averaged 28.5 and 26.0 points per game in his final two seasons for the team. That is so many points that I checked, re-checked, and then triple checked that this guy decided to play baseball instead of sticking with basketball.
But, sure enough, he became a pro baseball player as he was drafted in the second round by the Texas Rangers. He bounced around to the Mets before the Cubs selected him in the Rule 5 draft in 1996. He got his first major league experience in 1997 with limited action with the Cubs after tearing up AAA with the Iowa Cubs.
In 1998, he again tore up AAA, but it was tough to break through in the outfield for a Cubs team that was absolutely loaded out there. He played in 24 games but mostly as a defensive replacement as he only had 15 at bats during that time. In the two games that Lowery started, the Cubs were undefeated, taking out the Braves and White Sox in his starts. In games where Lowery got a hit, they were 3-0. In fact, he received at bats in nine games, and the Cubs went 8-1 in those games. Just Lowery playing was enough to put them at 17-7. He was the good luck charm.
Unfortunately, the Cubs weren't aware of good luck charm analytics back then, and he was sent back down after their game on July 4th (Cubs won, of course). He would become a free agent and join the expansion Tampa Bay Devil Rays for their second year of existence. In 2000, he joined the San Francisco Giants, where he had a slash line of .441/.548/.647 for an 1.195 OPS which would have led the major leagues had he qualified.
And after that performance, he never saw another major league at bat. Lowery had a short but fascinating career, and the good luck he brought to the Cubs will never be forgotten.
In case you missed it:
Introduction
#47 - Matt Karchner
#46 - Jose Nieves
#45 - Rodney Myers
#44 - Justin Speier
#43 - Tony Fossas
#42 - Kennie Steenstra
#41 - Chris Haney
#40 - Bob Patterson
#39 - Pedro Valdes
#38 - Derrick White
#37 - Ben Van Ryn