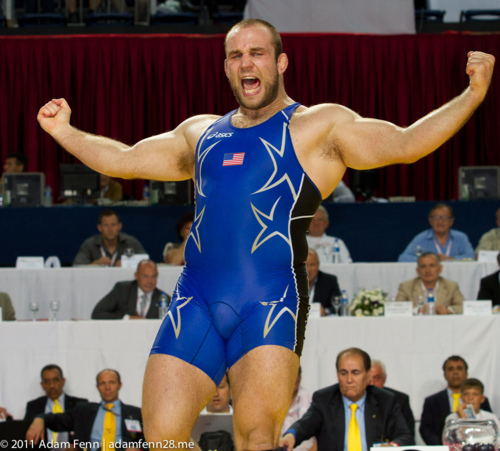 In anticipation of Vince McMahon bringing the fun back to football (more concussions, woohoo!), Lukewarm Jonah and I went back and forth to do an XFL Draft. Instead of breaking this down round by round, we are going to go by position groups. Today, we start the big nasties off with the guys outside at offensive tackle..
Offensive Tackle
Jonah:
Ryan Clady, Branden Albert, Jake Long, Collin Buchanan, Bryce Harris, Bobby Hart
Joe:
Michael Oher, Gabe Carimi, Tervel Dlagnev
Joe: Obviously, the ideal player for my team is Michael Oher. Not only was he an excellent college football player, but he is the subject of The Blind Side which is a book I thoroughly enjoyed and a movie I have never seen (because I'm a fancy book boy). He became a first-team All-American at Ole Miss and had a decent NFL career after that. He'll be a good offensive tackle for this league, but the story is his biggest selling point.
Our next tackle is Gabe Carimi who was a first-team All-American at Wisconsin before being a really bad player for the Chicago Bears. He also claimed the nickname "The Jewish Hammer." He said "The Hebrew Hammer" was already taken, since that is also already taken on our team by Mark Weisman. In other leagues, we would have to be politically correct, but in the XFL, we can blatantly exploit that Jewish people control all of the money and Hollywood, meaning my team will be raking in the cash.
Finally, we have my second wildcard pick. Tervel Dlagnev has no notable football experience, but he is an American Freestyle wrestler who won two World Bronze medals. He is only 6'2", 265 pounds, which may seem like an issue, but with his feet and the ability to use his hands, he can be put outside in the XFL. Considering Stephen Neal had a similar background and it led to a ten-year career in the NFL, I'm pretty sure Dlagnev can handle the XFL.
Jonah: Joe can love his receiving corps, I'll take my offensive line against at least half of the NFL. Man I took a lot of tackles, but you need that strong offensive line if you want to be successful isn't that right last year's Vikings and this year's Seahawks? I also took a lot of tackles because my big name picks are older and/or injured so I'm not sure if they're reliable.
Ryan Clady is a pro bowl NFL tackle if he's healthy. That's been a big if for him in recent years, but the talent is undeniable. If he can play for even a year, he'll shut down every single defensive end in the league, Bryant McKinnie college style.
Branden Albert is in the same boat as Clady. Pro Bowler in the NFL, but recently injured. He can also play guard, so it's nice to have that versatility. He seems healthy enough to play as he had tryouts this year, so if he and Clady are in the lineup, my quarterback is staying clean and my running game is gaining yards.
Jake Long was the number one overall pick in 2008 and lived up to the pick. His problem, like the other two tackles, is age and injuries. He was healthy enough to play and start last year, so I think he's still got a season or two left in him. At worst, he's a very valuable backup with incredible knowledge of the game. If all three were healthy and Albert moved to guard, my offensive line would be better than a lot of the NFL.
With the questionable health of the three big name tackles, I felt I needed to be realistic and get some guys I knew would be able to play. Collin Buchanan was a rookie this year who was with the Saints. He left the team, but who wouldn't leave those cheaters? He's young, healthy and talented.
Bryce Harris has bounced around the NFL but is only 28. He's started a few times and played in multiple games. There's not a lot exciting about Harris, but he's young enough and has NFL experience. Important insurance to have on the team.
Finally there's Bobby Hart who may or may not have graduated from the Hart Dungeon. He's an offensive tackle so there's not a ton to talk about, but he started 20 games in the NFL and he's only 23. He can clearly play, so I'll take him especially if the famous tackles need to go on IR.
Joe: Jonah, I say this with nothing but love, but you're insane if you think your offensive line would be better than half of the ones in the NFL. We haven't gotten to your interior offensive linemen yet, but spoiler alert, they aren't going to knock anybody's socks off. Ryan Clady is admittedly still a good offensive lineman when healthy. Unfortunately, if he makes it through four games, I think it would be considered a greater miracle than anything Jesus did during his lifetime.
Brandon Albert is maybe an average offensive lineman at this point as he greatly dropped off last year, and as you said, he can't stay healthy either. Jake Long hasn't been good for five years, and he hasn't been competent for three. Buchanan, Harris, and Hart are three offensive tackles, so congratulations on that.
Even with all of that trash talk, your tackles are definitely better than mine as tackle is likely my weakest position. Still, none of your tackles have competed in the Olympics, so that is a giant red flag.
Jonah: Clady can still play, Albert is an average offensive lineman in the NFL, that's the point, he will stand out in the XFL. Jake Long looked good last year when he was healthy playing for the Vikings, and my other guys were good enough to start in the NFL which again means they're great in the XFL. Oher is a good pick and can probably still go and Camari is probably good enough as well. Having your only backup tackle be a guy who has never played football is a bold strategy, not one I agree with but bold.
Joe: Jonah, you've got a lot of positivity about offensive linemen that nobody else shares. Not even I am that confident in Carimi, although you care so little for the man that you spelled it Camari. I might have to pick up this Camari guy. As for Tervel Dlagnev being my backup, I'm gonna go on chasing waterfalls. You can stick to the rivers and streams that you're used to.
Next time, we hit up the true OGs, Offensive Guards.
In case you missed it: