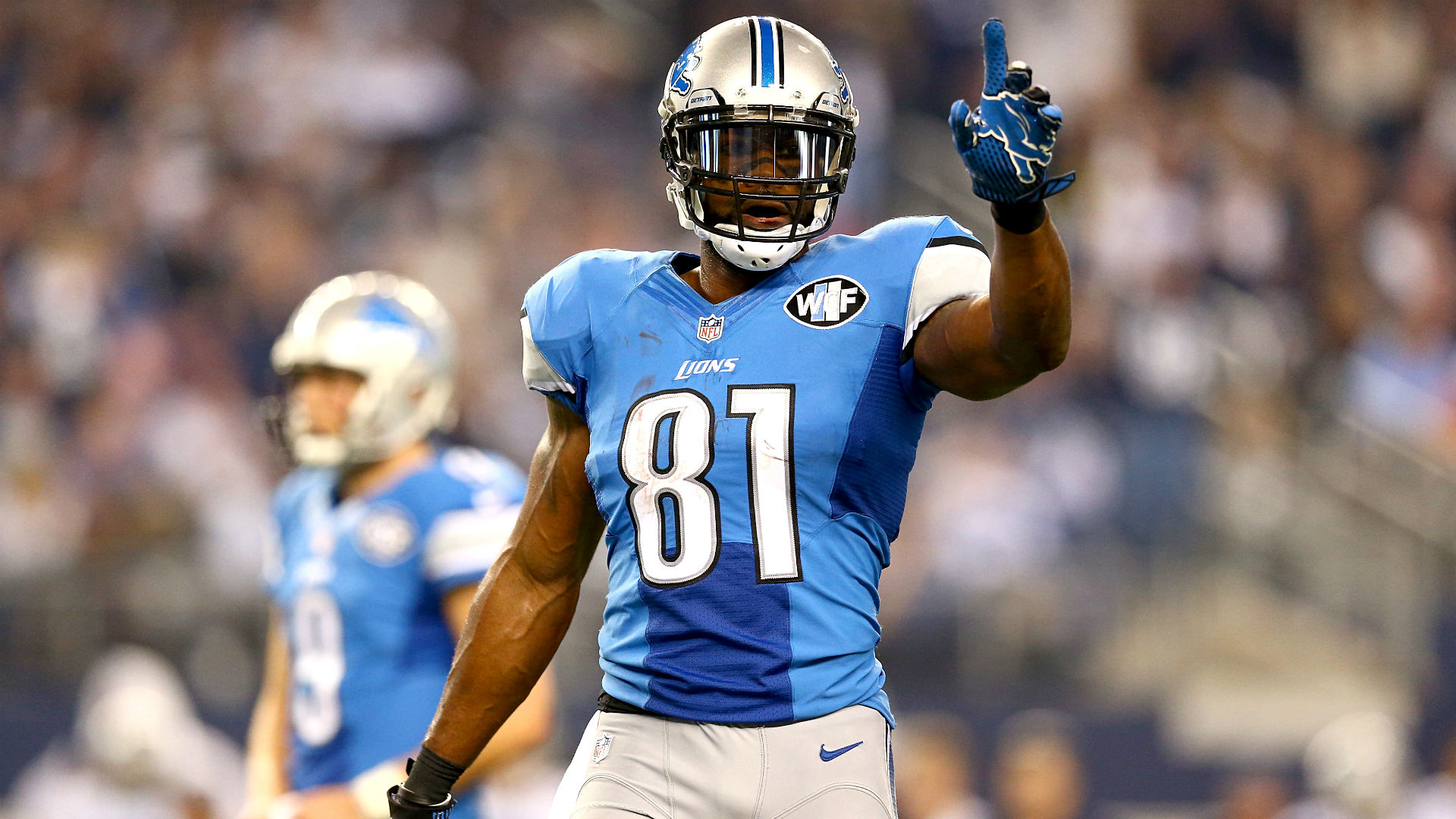 In anticipation of Vince McMahon bringing the fun back to football (more concussions, woohoo!), Lukewarm Jonah and I went back and forth to do an XFL Draft. Admittedly, both Jonah and I did minimal research before the draft and did all of our analysis during the draft. This meant that there was little rhyme or reason to any picks past the first two rounds. So instead of breaking this down round by round, we are going to go by position groups. We also only did a two-team league, because I cannot imagine finding enough nerds to have a 12 or 16 team league. We did do a whole 53-man roster, so you could imagine these guys being spread around across the league. Today, we continue this series with the wide receivers.
Wide Receivers
Jonah:
Victor Cruz, Moritz Bohringer, Speedy Noil, Corey Brown, Jared Abbrederis
Joe:
Justin Blackmon, Calvin Johnson, Vincent Jackson, Dorial Green-Beckham, Anquan Boldin, Riley Cooper
Joe: This is where my team truly owns as this is by far my strongest position group. One of the reasons we did not display our results as a draft was because I remembered Calvin Johnson in like the 20th round, so draft status did not quite match up with talent. But it's pretty safe to say that Calvin Johnson is the most talented player at any position in this entire draft and immediately makes my passing game unstoppable as my quarterbacks aren't good, but they are good at gunning the ball down the field and hoping for the best. With Calvin Johnson, their hopes have been answered.
Then I pair him up with Justin Blackmon, one of the most talented receivers of the past ten years. I'm counting on the XFL not being as strict on drug use, and Blackmon can flat out play, even if he hasn't touched a football for years.
Along with my superstars, I added reliable veterans in Vincent Jackson and Anquan Boldin. Vincent Jackson fits my quarterbacks well as he made a career out of snagging deep balls out of the air no matter who was covering him. Boldin is the opposite as he is going to be my possession receiver. Let's face it, Boldin is a guy who could be a productive NFL player for ten more years as he knows how to get open, no matter how slow he might become. He's an ideal safety valve for my quarterbacks.
Then I took my high potential pick with Dorial Green-Beckham, who was the #1 recruit out of high school in the class of 2012. He had two good years at Missouri before being dismissed from the team, spent a year with Oklahoma without playing, and then went to the NFL Draft where he never caught on with the Titans or Eagles. He recently got arrested for drunk driving, so I think the stability of the XFL is exactly what he needs to get his career back on the right track.
Finally, I took Riley Cooper, whose past racism will likely make him a fan favorite in this league.
Jonah:
Joe's receivers have more name value than mine, but I'll show you mine are actually better and definitely have more potential. Calvin Johnson could come back next year and get eight figures, so he's a little spendy even if he wants to play. DGB was on my list and is a great pick. However, Victor Cruz is only a few years removed from being the most exciting receiver in the NFL. If he can stay healthy he would be almost unstoppable. I also love Joe's pick of Justin Blackmon, I honestly think the two of them would be fighting it out for best receiver while putting up video game numbers.
Mortiz Boehringer is a name that's probably not recognizable unless you're a giant football/draft nerd. He's the first and only European player to be drafted in the NFL and learned about American football while watching Randy Moss. Boehringer is 6'4" and ran a 4.43 40. He's a physical marvel, but raw. He's like Matt Jones without the drug use and 1st round status. The NFL isn't getting European interest, so having Boehringer on the team will help our numbers as well as the fact that he's an unbelievable prospect.
When you do a 7 round mock draft you research a lot of prospects. Two of my most interesting players going into the draft were Tarik Cohen and Speedy Noil. Cohen worked out while Noil is still a free agent. He's 5'11" and an absolute freak of an athlete. He was the top athlete prospect in his recruiting class and the top Nike SPARQ score holder that year as well. He's got off the field concerns, but nothing too awful, just seems like kind of a knucklehead. Plus this is the XFL, who cares about being an idiot off the field if you had the best vertical and broad jump of anyone at the combine?
Corey Brown is a guy nicknamed "Philly" which I always found confusing while he was playing in Carolina. He was a decent receiver in Carolina, their number 2 or 3 guy. He had a decent three year career there, nothing spectacular but he was close to 500 yards two years ago. He's a young guy, but with three years of decent NFL experience he should thrive in the XFL.
Jared Abbrederis was always a guy I thought was eventually going to break out in the NFL, but never got the opportunity. He showed flashes of brilliance when he did get chances, but never had an extended opportunity. He's got good size, speed and hands. He's a solid receiver with three years of NFL experience. He's a valuable asset.
Joe: Jonah, Jonah, Jonah, Victor Cruz? Victor Cruz is your shining star? He wasn't good enough to make the Chicago Bears this year. As a Vikings fan, I know you are not going to dispute that the Bears had the worst receiving corps in the entire NFL, and when the Bears had to cut down their roster, they couldn't find a spot for your great beacon of hope, Victor Cruz. Get out of here with that weak ass shit.
Jonah:
Joe, Joe, Joe, you telling me that the Chicago Bears talent evaluators didn't think Victor Cruz still had it is the best endorsement you could give. Maybe the Browns front office took a look at him too and didn't think he was good. It was a few years ago because he's been hampered by injuries but he was unstoppable. Now your receivers look great, that's true, but like I mentioned I don't think Megatron is coming back and even if he is it's for a minimum of 10 million. You do have the fact that playing in the XFL is less demeaning than playing for the Detroit Lions working for you, but I don't think he wants to play football. Justin Blackmon is a star and Josh Gordon proved that you can take a few years off football and come back and play so he will dominate. I've always been a big Vincent Jackson fan, he was underrated during his NFL career but he's getting up there in years and Anquan Boldin is old as hell. I wanted to pick DGB so I can't say anything about him but good pick. Cooper is a racist so the fans might like him, but he's going to have some interesting times in the locker room.
Joe: Victor Cruz not only failed to make the Bears, but nobody else even bothered to bring him in. His former team, the New York Giants, lost an entire roster full of receivers, but when Cruz told them he was available, they just texted back "New phone, who dis."
But that's it for today. Next time, we'll continue with each of our team's tight ends.
In case you missed it:
Quarterbacks
Running Backs