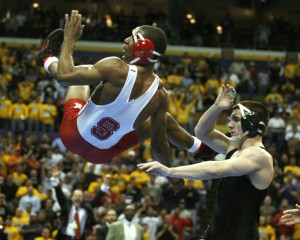 Last week, I gave my thoughts on
what the brackets meant for Iowa
, but I figured that I should probably give my actual predictions for what is going to happen in each weight class. I'm not going to pick out each All-American spot, but I do want to look at who I have making the finals and winning as well as where the Iowa wrestler at each weight will end up. I will admit that I am overly optimistic about Iowa, but I also don't think I'm insane in any of these predictions. Still, I definitely lean towards the positive when it comes to Iowa. (Note: I try to predict who Iowa will face in later rounds, but I am almost always going by seed. There are going to be a ton of upsets this weekend, but trying to predict them is almost impossible).
125 - Iowa
I really like Cory Clark, but I don't love his draw. I think he's capable of beating anybody but having to go up against Jesse Delgado in the quarterfinals will prove too tough of a road for him. In the wrestlebacks, I think he can do some damage as he has enormous talent. I think he can get through anybody until he goes up against Nahshon Garrett. That puts him in the 5th place match where I see him getting revenge over Wisconsin's Bradley Taylor.
125 - Final
It's going to come down to another match between Jesse Delgado of Illinois and Nico Megaludis of Penn State. Megaludis is tough everywhere, but Delgado is just a ridiculous talent, and I think he knows what it takes to peak at the NCAA Tournament. This is going to be a close match; it will probably be seen as a boring match by many, but I think Delgado does enough to win a second National Title.
National Champion - Jesse Delgado - Illinois
133 - Iowa
I'm not betting against Ramos. There is a reason he was heavily favored to win the title before the season began. Logan Stieber was the only guy that was able to beat him last year, and even though this year has not gone as well as many had hoped. I expect to see Tony dominating early before taking an impressive decision in the quarterfinals to set up his rematch with AJ Schopp. He lost 3-2 when he just didn't get to his offense, but I think he learns from that mistake and shows why he was the favorite going into the season.
133 - Final
I tried to come up with a way that Joe Colon did not make the finals, but I couldn't reasonably do it. I think Graff gets to the semis, but Colon has handled him both times, so I expect him to win again. That means that Ramos gets a chance to avenge his only other loss in the finals. I think he does it, but that may be because I don't want to live in a world where Tony Ramos does not win a National Title. Last time, Colon got an early takedown, and then he caught Ramos going in for a shot perfectly, put him to his back and pinned him. I don't see Ramos getting down early, and I think in a close match that I really like what Tony does both from the top and the bottom positions.
National Champion - Tony Ramos - Iowa
141 - Iowa
To prove I am not a total Iowa homer, I do have Dziewa losing his first round match with Dutton. Dutton expanded the margin between these two after their first meeting with a dominant win at the Big Tens. Still, I really like how things set up for him in the consolation matches. He will likely be taking on Nick Flannery from Buffalo in his first consolation match, and as he was only able to accumulate a 22-16 record, this seems like a win for Dziewa. After that, it is likely 14 seed, Edgar Bright from Pittsburgh, and although I expect it to be close, I do think Dziewa can win that one as well. Then he is projected to take on Joey Lazor, the 11 seed in the next round, and I really feel as if Lazor is overrated. Outside of catching Mecate in his final match, he doesn't really have any quality wins. I'm taking Dziewa again before falling to Luke Vaith of Hofstra and falling short of All-American status.
141 - Final
Mitchell Port is the 1 seed, and his biggest competition is Devin Carter who is technically undefeated but lost to Ramos (who was wrestling up a weight class) in a preseason match. I think Port makes it to the finals, where he will face Logan Steiber who is going to steamroll everybody. Steiber showed everyone that his loss to Retherford was more due to not having any experience against him than Retherford being the better wrestler. Retherford has a tough road, including a surprisingly tough first round match. I still see him making it to the semis, but Stieber beasts him there, and then goes onto beast Mitchell Port. Don't bet agianst Steiber; he's going to win the National Title.
National Champion - Logan Stieber - Ohio State
149 - Iowa
Brody Grothus got the 13 seed and is a total enigma to me. He has faced a lot of tough competition, and outside of the Big Ten Tournament, he has taken care of business against most lesser foes. That means that I have him winning his first round match before getting beat (and likely beaten badly) by Kendric Maple. I have him taking his first wrestleback match, and then has a likely matchup with Dyllan Cotrell from Appalachian State. Cotrell only has one loss, but he has only faced one legitimate wrestler and got majored by Jason Tsirtsis. I'll say Grothus's luck finally runs out against Nick Dardanes who gets upset in the quarterfinals. Still, 3-2 would be a solid showing for Grothus.
149 - Final
149 has been insane for most of the year, but I do think that things have settled. Still, I don't see a 1-2 matchup. I think 1 seed, Drake Houdashelt, will make his way through a tough top-side of the bracket. It might be Maple or Tsirtsis in the semis, but I still see Drake getting by him. On the bottom side of the bracket, I have 6 seed, Jake Sueflohn, making it through. His only losses are to Drake, Maple, and Tsirtsis, so the draw really worked out well for him. Although the draw works out well, I still see Houdashelt claiming the national title for Missouri.
National Champion - Drake Houdashelt - Missouri
157 - Iowa
Derek St. John got the number two seed, and a pretty favorable draw. He has a surprisingly tough first round match in Joey Napoli, but after that, he should cruise to the semifinals where has a likely match with Alex Dieringer. DSJ is never pretty, but he usually finds a way to do enough to win, especially at the NCAAs. I don't see that changing this year.
157 - Final
The top half of this bracket has a ton of talent with Ness, Pena, and Jordan, and Green. I keep going back and forth on things as I could really see any of those guys emerging and making it to the final. Still, Green has had some close matches, but he has still proven that he is number one at this weight class, so I do see him making the finals. He has dominated DSJ twice this year, and when watching those matches, it is tough to see how DSJ can beat him. Still, I really want to pick DSJ...but I can't. Green wins his first National Title.
National Champion - James Green - Nebraska
165 - Iowa
Nick Moore got the 5 seed, but I do like his path to make it to the semifinals. I think he gets revenge on Steven Monk in the quarterfinals, but yeah, he's not going to compete with the Magicman. It is kind of a bummer, as I really believe he could prove himself as the second best guy in the country behind Taylor. Still, I think he dominates the Wrestlebacks to take third place which would be a great finish for him.
165 - Final
Honestly, outside of Taylor, 165 is kind of a weak weight. There aren't guys that inspire much confidence in me picking them. Because of that, I'll go chalk and put Caldwell in the finals. He was able to stall so much that he held Taylor to a regular decision earlier this year, but I think Taylor gets his revenge and majors him in the finals, putting a nice little bow on what has been a very impressive collegiate wrestling career.
National Champion - David Taylor - Penn State
174 - Iowa
Mike Evans got the 4 seed after a good Big Ten Tournament. I think Evans is strong enough to cruise into the quarterfinals where he will face Matt Brown. These two have gone back and forth, and unfortunately, I see Brown getting the victory. It will be a close match, and one takedown will probably win it. After that, I see him tearing through the Wrestlebacks. Unfortunately, in the semifinals, he will go up against Robert Kokesh, where he will lose. He will still recover to win his 5th place match for a very nice tournament.
174 - Final
I'm going chalk for this weight class. Perry from Oklahoma State taking on Howe from Oklahoma. Perry upset him at the Big 12 Tournament (which is now just 4 teams), but Howe came very close many times to getting points. I don't think Howe loses again. He's freakishly strong and totally solid in technique. Also, he's a 9th year senior (estimate), so he can go out and celebrate by renting a car. Good for him.
National Champion - Andrew Howe - Oklahoma
184 - Iowa
As I stated in
my earlier piece
, Lofthouse got a great draw, and I'm going to keep this one short and predict a spot in the finals for him. Bring it, Thomusseit. Bring it, Sheptock. You're all going down.
184 - Final
As for winning the final, that ain't happening. Ed Ruth is a monster. Ed Ruth will avenge his loss to Gabe Dean, cruise to the finals, and win yet another national championship while racking up a ridiculous amount of bonus points for Penn State. Ed Ruth is amazing, and as a Hawkeye, I'm happy to see him graduate.
National Champion - Ed Ruth - Penn State
197 - Iowa
I have Burak winning his first round match before losing in the second round to Richard Perry from Bloomsburg. After that, I see him winning his first wrestleback, but then losing to Chris Penny from Virginia Tech. Burak could outperform these expectations, but he just hasn't shown enough offense to inspire much confidence in him.
197 - Final
I think Nick Heflin holds seed and makes it to the finals where he runs into J'Den Cox from Missouri. Both guys have been on a roll as of late, but I see Cox doing enough to give Missouri a second national champion.
National Champion - J'Den Cox - Missouri
HWT - Iowa
While I think Bobby could beat anybody on the bottom half of the bracket, the top is a much tougher draw for him. I think he will do enough to beat the guys he is supposed to, but he is already lost twice to Adam Coon this season, and I see Coon getting the better of him a third time. Still, I have him coming back from that to win his first two matches against Jeremy Johnson and getting another win over JT Felix before a tough match against Nick Gwiazdowski from NC State. I think Telford can get past him to make it into the third place match. At that point, he gets yet another match against Coon, but this time I see Telford figuring it out and getting the win for third place.
HWT - Final
Heavyweight has been a rollercoaster this year, but somehow, Tony Nelson ended up as the top seed despite four losses. I have him beating Coon in the semifinals to advance. On the bottom of the bracket, I'm taking Mike McMullan from Northwestern overcoming some odds as the 6 seed. Still, Tony Nelson has won teh last two national titles for a reason. He's really good, and he wrestles great at the tournament. I don't see that changing this year, and Nelson wins his third straight title.
National Champion - Tony Nelson - Minnesota
Overall
So, as an Iowa fan, this is a very optimistic view of what could happen. Any of these things could happen, but the chances of Iowa having 7 All-Americans is just a tad unlikely. Penn State is almost certainly getting two national champions, and they have a strong chance in at least three other weights. I think Minnesota is overvalued in their seeds, and I think they could run into some very tough early matchups. Oklahoma State just isn't strong enough to compete with those top three teams, and in the end, I see it coming down to Iowa and Penn State. If I'm right on everything, Iowa wins, but I honestly don't think my prognostication skills have been perfected yet. It pains me to say it, but I still see Penn State showing that they are the best team in the nation and winning yet another National Championship.
National Champions - Penn State