I had been looking forward to this past weekend for a long time. Obviously, I knew Iowa's wrestling team was going to be in contention for a National Title since forever, because they are always in contention for a national title. But this was finally the year when Iowa basketball would make its triumphant return to the NCAA Tournament and wreak havoc on all those that got in their way. In hindsight, things did not quite turned out how I planned. Let's start from the beginning.
Basketball
Last Sunday, Iowa officially got their spot in the tournament, kind of. They had a play-in game for an 11-seed against Tennessee (for these purposes, the weekend started Wednesday night). As KenPom taught me, Tennessee was even more underrated than Iowa, so it was not only a tough matchup, but it was a tough matchup to get into the regular matchup. Ugh was about the only thought I could come up with.
But, I am wildly optimistic about Iowa sports. Since just about anything could happen in sports, I always assume the most positive outcome will happen. I saw the Tennesse matchup as tough, but the SEC barely knows what basketball is, so Iowa should win that one. Then UMass was a ridiculously weak 6-seed, and I haven't been very impressed with Duke all year. That puts Iowa in the Sweet-16 against Michigan, who are dangerous when hot, but Iowa destroyed them the last time they played, so, yes, I did have Iowa making it to the Elite-8 before losing to Louisville (Side note: None of these things are outlandish, especially Tennessee beating Michigan as they have very tough perimeter defense that could give the Wolverines fits). Going into Wednesday night, I had convinced myself that good things were about to happen for the Hawkeyes.
Then Wednesday night started, and Iowa looked great to start off the game. They moved the ball well and Tennessee's shaky shooting was as shaky as advertised. I was ready to start talking trash to both UMass
and Duke
. But Tennessee crawled back and somehow were only down by three points going into halftime. Still, Iowa was up three points despite getting nothing from Roy Devyn Marble. Once he gets going, Iowa should be able to extend their lead. Also, Tennessee can't shoot, so that's another point in Iowa's favor.
Unfortunately, Marble showed flashes but never really got going, and Tennessee started hitting threes like they were Doug McDermott. And still, Iowa stayed right in the game. Adam Woodbury was amazing; Peter Jok was ridiculous, and even Zach McCabe played really well. They hung close enough for Marble to hit a clutch shot and send the game into overtime. There was still hope.
But that hope quickly disappeared. Iowa just couldn't get things together, and Tennessee had everything going for them. Iowa got outscored 14-1 in overtime to give them their largest margin of defeat through the entire season. After this entire season where Iowa showed they could hang with anyone, but could never pull it out, they hung with Tennessee and just couldn't pull it out. I felt empty, but then I remembered something. The real NCAA Tournament starts tomorrow, and
Iowa's wrestling team had a legitimate shot at a national title
.
Wrestling:
There was good news and bad news to that, though. I already had plans to go to an Astros Spring Training game in Kissimmee on Thursday, as she had an early flight on Friday morning in Tampa. That meant no wrestling for me on Thursday. I avoided all social media and wouldn't even watch ESPN, as the scroll at hte bottom may spoil a result for me. The good news was that by me avoiding everything on Thursday, I would have 13 straight hours of wrestling to watch on Friday. This had me very excited.
So I end up getting back to my place at around 9:30 after five straight hours of driving and very little sleep. Still, this was the NCAA Wrestling Tournament; there was way too much excitement for me to feel tired. Session I started off well. Cory Clark came out like a man on a mission. Ramos had a close match, but I'll allow that from Ramos, because he's proven himself pretty well these past four years. Iowa suffered their first loss when Dziewa lost, but he was the one guy expected to lose in the first round, so it was not that big of a deal. He wrestled better against Dutton than he did in their previous match, so it was a step forward. After that, both Grothus and St. John looked good in taking care of their opponents.
And then things fell apart. In two of Iowa's next three matches, Iowa suffered huge losses. Nick Moore and Ethen Lofthouse, both 5-seeds in the tournament, suffered first round upsets. The other three remaining Hawkeyes did take care of business, but that was rough. Nick Moore had been wrestling great, and I honestly thought he might be the second best guy at 165 (it was a distant second, but still), and Lofthouse looked healthy with a bracket that lined up perfectly for him to make the finals since both Ed Ruth and Gabe Dean were on the other side. Looking at how the tournament played out, I think he would have had a hell of a time beating Sheptock, but a semifinals appearance would have been a whole lot better than how things turned out.
Even my optimism began to wane.
I'm just now watching Session I of the tournament, and through eight weight classes, I have already given up on Iowa's championship hopes.
— Hott Joe (@HottJoe) March 21, 2014
I then ate a quick lunch and got into Session II. Clark took care of business, and Ramos nearly gave me a heart attack, as he had his second close matchup, this one even closer than the last, as he managed to beat Zane Richards in Sudden Victory. Still, a win is a win. Grothus got beat by Maple, but I expected that. But, everybody else took care of business. St. John, Evans, Burak, and Telford all wrestled well and advanced to the quarterfinals. Iowa had six guys in the winner's bracket.
And that was all it took for me to get my optimism back. When other teams go to the consolations, I assume they will quickly lose again, but when Iowa guys lose, I just assume that they are going to wrestle tough and grind their way back to an All-American finish. By now, you should already know that my optimism was not well placed.
Dziewa got one win before losing to the #2 seed at his weight in sudden victory who just happened to be from Minnesota which put a knife in my chest. Grothus lost his first consolation match against a guy he had already beaten twice this season, which dug that knife a little deeper. Nick Moore won two consolation matches before being on the receiving end of another 5-point move to get eliminated from the tournament and twist that knife a bit. Finally, Lofthouse topped it off by only winning one match in the consolations before getting shut out in his next match. I don't know what else knives can do, so I guess it just did another 360 twist again.
But I still had six wrestlers to look forward to in the championship bracket of Session III. Iowa had two favorites, one underdog, and three tossups. This tweet sums up my emotions well.
I'm about to watch Session III, and I'm excited at what Iowa could do, yet still terrified. Sports are illogical, and I'm a mess. #Hawkeyes
— Hott Joe (@HottJoe) March 21, 2014
Here's how Session III went:
Bad: It started off how I expected as Cory Clark just didn't have enough to beat eventual National Champion, Jesse Delgado.
Good: After that, Ramos kept Iowa fans terrified but got a late takedown in the third to advance to the semifinals.
Bad: Derek St. John wrestled his lackadaisical style but was unable to create scrambles and instead just got repeatedly taken down to lose his match 11-4.
Good: Mike Evans won in a tiebreaker over Matt Brown in an excellent match to advance to the semifinals. This was probably the match that had me most excited as it was not only a tough win, but it was a tough win over Penn State which makes it twice as nice.
Bad: Nathan Burak lost to Chris Penny, who he had beaten earlier this season.
Good: Bobby Telford finally got over the hump and beat Adam Coon in a tiebreaker.
Overall, 3-3, and it was a total rollercoaster of emotions. At this point, I had watched 10 straight hours of wrestling. I was mentally drained but physically anxious. I also had three dogs being pests, so we went for a quick two-mile run to get the bad vibes out. In the biggest shocker of the day, I actually took a shower between my 13 hours of wrestling.
At that point, I had finally caught up to the live viewing on ESPN for Session IV, the semifinals. The good news, although I was not watching, was that the three guys who lost in the quarterfinals all won their first consolation match to guarantee their spots as All-Americans. Six All-Americans, things could be worse.
For the semis, we'll start at Heavyweight, Tony Nelson is just a better version of Bobby Telford. Telford managed a win at the dual, but Nelson was wrestling great in this tournament, and Telford just didn't have enough to beat him. This was a bummer, but it was the easiest match for me to take.
Tony Ramos again tried to give all Iowa fans a heart attack in his rematch against AJ Schopp. Ramos just did not get to his offense at all in the first period. Then Schopp rode out Ramos in the second period and then got a quick escape to ensure that he would get a riding time point. Things were not looking good when Tony Ramos did Tony Ramos things and not only got a takedown but took him to his back for a five-point move to secure the victory and move onto the championship. At least Iowa would have one guy in the finals.
And god damn, it should have been two. I can't imagine how Mike Evans feels about his match against Chris Perry, because even days later, it's tough for me, who has no connection to Mike Evans outside of the fact that we attended the same university years apart, to write about it. No scoring happened in the first and Perry was able to get an escape in the second period, but as time was ticking down, Evans pulled off a takedown to lead 2-1 going into the third period. Evans had the decision and chose down. At the time, it seemed questionable, and it turned out to be an awful decision. Perry rode him out and Evans never came close to getting the escape. They were going into overtime. They got in a scramble, and this happened.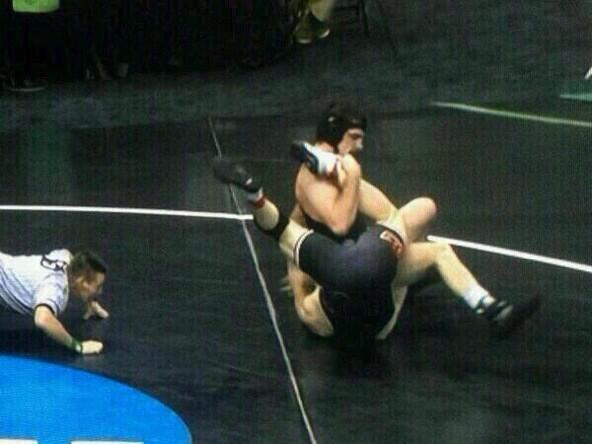 Yep. That's what looks to be a pin. In fact, I'll go so far as to say that this is definitely a pin. There have been lesser pins in the WWE, but the ref, despite looking right at it, refused to call the defensive pin. Chris Villalonga, from Cornell, suffered his first loss of the tournament on way less than this, but the ref didn't want to make the call. In the end, they went to ride-outs, and Evans got ridden out, and Perry escaped and avoided Evans enough to avoid the last-ditch attempt at a takedown. John Smith, coach of Oklahoma State, then got interviewed and didn't understand why Iowa fans were booing. I yelled a lot of expletives at my television. Evans should have made the finals, and it really sucks that he didn't. There's nothing more I can say.
After 13 hours of wrestling and standing for every Iowa match that they showed (because I'm a very pathetic individual), I was pretty tired, so I watched a few dribbles of basketball and went to bed.
Saturday morning was the medal round, and it was not a good showing for the Hawkeyes. I'll rank it from my favorite to most disappointing performance.
1. Cory Clark - He lost his first match to Megaludis, but he wrestled really hard. Megaludis was just a little more solid, and the new takedown rules (which I completely agree with) benefited Nico. Still, Clark was going for it, and that's what really matters. On top of that, he dominated his 5th place match with an 8-1 win over Dylan Peters.
2. Bobby Telford - He was the only person to make it into a third place match, and he ended up taking fourth. A win over Mike McClure is always impressive, but it was 1-0, so that is a classic Telford there. He didn't get to his offense in the third place match and lost Mike McMullan 3-1. Nothing too exciting, but he's a heavyweight, so that's never really expected.
3. Nathan Burak - He took eight place, yet still finishes this high as he wrestled hard but lost to Morgan McIntosh.
4. Mike Evans - He just didn't have it after getting screwed in the semis. I don't blame him. He lost two matches that weren't particularly close to take 6th place.
5. Derek St. John - He finished in 5th place, but he got beaten badly by Ian Miller of Kent State, and then he never got a chance to redeem himself as Brian Realbuto injury defaulted out of their 5th place match. For a guy that grinded out every second of every match during his four years at Iowa, it's disappointing to see him take a beating and never get one last shot at another match. Still, it was a great career for DSJ.
Finally, I made it to Saturday night. ESPN was going to make me wait for the Ramos match as they were starting at 174. This was extra depressing as I had to start the night off by watching Chris Perry win a National Title despite getting pinned in the semifinals. That meant Tony's match was going to be seventh. I make it through the matches, realize that once Tony Nelson lost, Penn State had basically secured their fourth straight National Title. But this night was not about the team race for me anymore. Iowa was stuck in fourth, so it was time to see the culmination of Tony Ramos's four hard years at Iowa where he would take on Tyler Graff, a guy who always wrestled him extremely close. This match would be no different.
If you were trying to sell people on watching wrestling, I would not rely on this match. It was a deliberate match. Neither guy wanted to make a mistake, and neither guy did. No scoring in the first. Graff got an escape in the second. Ramos got an escape in the third. Sudden victory, and not a score was to be had. Tony went down and could not escape from Graff. My heart sank. Tony needed to get a ride out to force it to another sudden victory period. The period started and Graff was close to squirming his way out. He did everything that he could to get away from Tony. He twisted and turned, and that would be his downfall. He turned over to his back, and Ramos planted him there for the two back points before riding him out for the rest of the period to win the National Title at 133 pounds. Ramos took his time to flex, get his hand raised, and sprint over and jump into the stands with his family and friends. After 5 years in the program, and four as a starter, Tony Ramos finally got the asterisk that he so richly deserved next to his name in the Iowa wrestling room.
Overall, this was a terrible weekend to be an Iowa fan. The basketball team got a bad seed and couldn't even make it to the round of 64, and everything is lining up for the team that beat them. On top of that, the most hated man in Iowa guided his team into the Sweet 16.
On top of that, the wrestling team had disappointing loss after disappointing loss and never came close to sniffing the overall title. Despite all that, the lasting image from this weekend will still be Tony Ramos jumping into those stands to celebrate five years of hard work. Sports are stupid. They are cruel, and they will make you feel miserable. I felt terrible way more than I felt good this weekend, but that one moment of a Hawkeye's dream coming true made it all worthwhile.