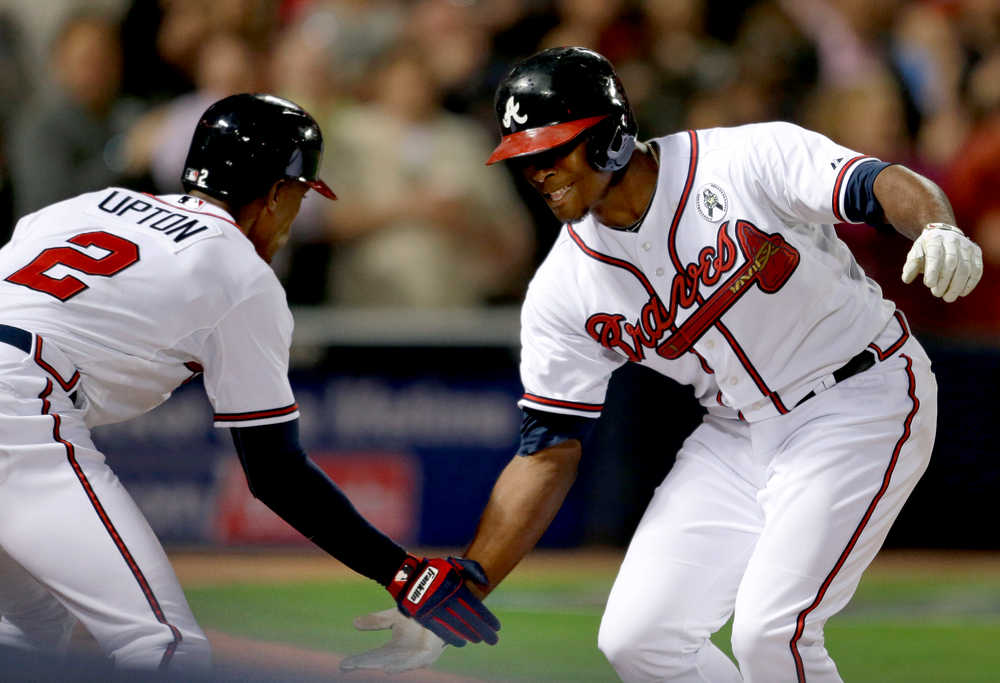 If you are curious about my thoughts on fantasy baseball players this year, this may be a worthwhile read. If you do not care about fantasy baseball, then this is about to be the most boring ass shit you have ever read. This baseball league is combined with a fantasy football and basketball league where owners are allowed to trade between sports. That is why picks do not match up perfectly for a regular snake draft (Mine is especially ridiculous as I love trades way too much) Also, there are two keepers, so younger guys do get valued more by some teams, and even guys who have very little chance of playing this year (Sup, Byron Buxton) even get drafted. Anyway, this is my chance to shit on other people's decisions while praising my own genius. It is very therapeutic.
Best Pick: Mike Trout
I know this isn't really rocket science, but I can't look at another pick in the first round and say they did a better job than getting Mike Trout.
Worst Pick: Robinson Cano
He's moving to a pitcher friendly ballpark, and he does keep aging. He's really shown no signs of slowing down, but his numbers will likely go down in his move from Yankee Stadium. He's still probably going to be a top-3 second basemen, so it's not awful, but it still counts as the worst of the first.
Best Pick: Ryan Braun
I promise not to do this often, but I love Ryan Braun this year. I don't see any reason that he won't be grouped with the top 4 guys in the draft. I think steroids are horribly overrated, especially with the advances made in substances that are legal. He's had time to rest his body and has looked great in the spring, and I think he gets right back to where he was before last year. Also, last year wasn't nearly as bad as people made it seem, especially considering his wrist injury. Ryan Braun is the entire reason that I made a trade to get out of the first round.
Worst Pick: Yasiel Puig
I don't think that he is a head case, but I think constantly being treated like a head case can't be good for anybody. I also think that after a hot start, he started to regress, and I think he's closer to the regression version than he is to the world beater he was when he first came up. He's still a very good player, but I don't think he's the type of guy to reach for in the second round.
Best Pick: Stephen Strasburg
Are we sure he's not going to be the best pitcher in the major leagues this year? He was pretty great last year and has looked great so far this spring. I think he has the highest ceiling of any pitcher not named Kershaw, and I don't think it's crazy for him to take a big step forward. Shoutout to The Big Nasties for stopping me from having my perfect draft and taking Giancarlo Stanton. I love Stanton so much, but I also recognize that I have a bias that favor anyone with 80 grade power, so I may be overrating him, but man, I could definitely see big things from him this season.
Worst Pick: Alex Rios
I don't really like either of the Texas outfielder picks, as I feel they are both due to regression, but this one came first, so I'll go with Rios. He's a guy who's so unpredictable that I will never trust him. Best case scenario, he actually lives up to his draft position, worst case scenario is that he's available on waivers sometime this season.
Best Pick: Madison Bumgarner
I see Bumgarner as a very safe pick who still provides Cy Young upside if things break his way. I have nothing more to add.
Worst Pick: Yadier Molina
I didn't really like the Buster Posey pick, so picking an inferior catcher three picks later definitely earns the worst for this round. I think there are about six catchers that are on that higher tier of players, but I see Molina as having the lowest upside of any of them. Catchers have a tendency to fall off quickly, and I wouldn't want to be the one gambling on Molina keeping up the production. There's just no upside with this pick.
Best Pick: Justin Verlander
I expect Verlander to bounce back. I don't think he'll be the best pitcher in baseball, but I also wouldn't be surprised in he was the best pitcher in the AL. The only worry is that Kate Upton might be making him soft, but I would gladly take that risk in Round 5.
Worst Pick: Brandon Phillips
His hitting started heading south and he stopped stealing bases. He's going to be 33 this year, so I don't know how much I believe in him bouncing back to any sort of an elite level. Also, second base is a deep position, so I would have much rather waited for a guy to fall, as opposed to pursuing the position early on.
Best Pick: Mark Trumbo
So far, this is the hardest round to pick. I'm going Trumbo, because there is a lot of love for his power in Arizona, and he already has a home run this year, so it gets your team going in that Week 1 matchup. Hunter Pence is constantly underrated, so maybe he'll put up Top-20 fantasy numbers again, and Matt Kemp is boom or bust. It looks like he's going to be ready the first week of the season, so if he stays healthy, it's a steal this late in the draft.
Worst Pick: Kenley Jansen
Jansen is a stud closer, but getting him this early seemed like a mildly bad pick at the time. What happened after makes it even worse, as everybody in this league decided they were not paying for saves and closers fell further than maybe any draft in the country. We'll get to that later. Also, honorable mention to Matt Holliday; I know that whoever he's working for has erased this from the American public's memory, but I'll never forget this play against Canada in the first World Baseball Classic.
He purposely misplayed a ball in a stadium within his own division, and then faked an injury to help Team Canada beat the USA. And yes, he did stay in the game, despite his traumatic injury. I didn't know that it counted as acupuncture when the injured person is stabbing his own country in the back.
Best Pick: Mat Latos
The injury is definitely a concern, but I have an unnatural love for Latos for what he did in 2012. He was terrible to start the year, and finally after giving up 7 runs in 4 innings on June 18, Team Cock Boy dropped him. I immediately picked him up. He threw back-to-back complete games in his first two starts for me and was generally unstoppable on his way to dropping his ERA to 3.48. I could still see him taking a step forward, and I do think his worst case scenario is solid value for the round.

Worst Pick: Carlos Beltran
I definitely have a bias against older players, because I think the risk outweighs the minimal reward at this point in the draft. With the guys being drafted around Beltran, I just don't see a big upside with him at this point in the draft. Also, I'm not an Alex Gordon believer, as his fantasy value was greatly tied into his runs scored and RBI.
Best Pick: Anthony Rizzo
There was a lot I liked about this round, as I think Hamilton provides the same value that you get from Pujols but 50 picks later, Matt Cain just kept slipping and I expect him to go back to his previous levels, and I am a huge believer in Samardzija this season. Still, I think Rizzo has the potential to be one of the top first basemen in the league this season. He suffered from a lot of bad luck, but he made some positive strides in areas he had struggled with in the past. He was a guy that I was targeting very hard, and had I gotten Stanton early on instead of Votto, I would have selected Rizzo here. Still, I felt there were some valuable first baseman options later on, so good pick from Thrills here.
Worst Pick: Shelby Miller
I will admit that this one could make me look stupid, as I really don't think it's that bad of a pick, but the fact that St. Louis jerked him around in the playoffs and kept him on the roster despite not pitching is a red flag. It could have been counted as saving his arm, but they actually had him warming up as Boston was clinching the World Series. That worries me, but had the Cardinals not even made the playoffs, I probably would be totally fine with this pick. This was a strong round, so nothing too terrible.
Cole Hamels will miss the first 4-6 weeks this season, but he is already getting positive reviews for how he is recovering. This just doesn't seem like an injury that will affect him once he comes back, and he has shown incredible durability since making the majors. If he didn't have the injury issue, he probably gets selected in the 5th round. Instead, he falls to the 9th, and that is a trade-off I would gladly make.
Worst Pick: Xander Bogaerts
In itself, I don't mind the pick. I think that he will provide fine value for a team this year, but I hated the draft strategy that Disney used here. He already had Jose Reyes at shortstop and drafted Andrelton Simmons three rounds later. Bogaerts as a shortstop, which he will be after a couple weeks, has really good value. Bogaerts as a third baseman has very limited upside and just gets you a fine player. Trades happen fairly often in this league, but it is usually intersports trades, as opposed to baseball for baseball moves, so I think it will be hard for him to thin out his glut of middle infielders.
Best Pick: Domonic Brown
This is the point where outfielders start thinning out, and there starts a big dropoff. Brown was given his first sustained starting job last year, so I don't see any reason he should be worse this year, and he might even get better. It's tough to get outfield power this late in the draft, so I like the pick. Shoutout to Michael Wacha who could be a pretty good value if his pitching in the playoffs is the real deal, especially since it seems as if the Cardinals have more faith in him than they do in Miller.

Worst Pick: Billy Butler
What's the great appeal with Billy Butler? The power isn't consistent, so is there really much difference between him and Kevin Millar? The only thing Butler has going for him is making it to the big leagues earlier. He can only occupy a utility spot, so I just don't get the appeal.
Best Pick: Greg Holland
I don't really think Greg Holland was the best pick, as I really like both the first basemen picked in this round. I prefer Abreu over Belt, but I would have been totally fine had Disney selected differently, but Greg Holland deserves special mention for being the star of our draft. On ESPN, Greg Holland is ranked 64th, he fell 60 spots lower than that. No matter what you think, that is good value. Also, it gave us an opportunity to pretend that Greg Holland was crying in the green room in the 8th round, to him being accidentally drafted in the 9th round, only for us to rewind the pick, leaving him inconsolable, and finally in the 10th round where Holland was sitting by himself in the green room while cutting himself just to feel something. Finally, he was drafted in the 11th round. Good for you, Greg Holland.
Worst Pick: Shane Victorino
When we get to these middle rounds, I feel like there is good value in a lot of areas. Victorino was universally panned as being a terrible signing last offseason. He then made everybody look like idiots. Still, there were a lot of valid reasons that people thought Victorino would be a bust, and it wouldn't surprise me if he took a significant step backwards this season.
Best Pick: Jedd Gyorko
I'm a huge Gyorko supporter for this season. If he only duplicates what he did last year, this is very nice pick at this point, and I have a lot of reasons to expect him to get better. His K% was much higher than it had been in the minor leagues, so I expect to see him make more contact. Also, his BABIP was quite low considering his line drive percentage, so I wouldn't be surprised to see him bump his average up to .280, and still bring the power but see a bump in his runs and RBI. If that happens, he probably won't be far from Robinson Cano production. So, yeah, I really like Jedd Gyorko.
Worst Pick: Victor Martinez
He just doesn't have much upside, and it isn't too hard to imagine him losing 20 points of batting average and his value really dropping because of it. He hasn't had 20 home runs since 2010, so he has to hit .300, and he has to get those counting stats. Also, only being able to be played at a utility spot makes him a very blah pick.
Alright, that gets us a almost halfway through the draft. I should have the second half up later today or early tomorrow with team rankings coming after that. And if you feel like I deserved more best picks, I totally understand, but I feel it is best to lie and give other people credit in some rounds.