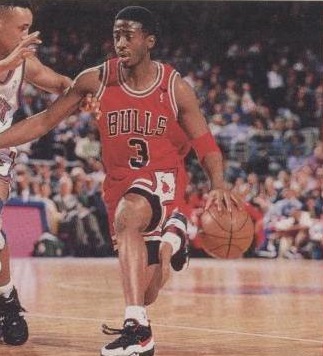 Jo Jo English
Jo Jo English did not come along at the right time. He managed to play three years with the Chicago Bulls in the 1990s and was only a part of one championship team. Even that was only for a short period of time.
English went undrafted in 1992 but signed on with the Bulls for the preseason. Although he didn't make the team, he made a positive impression as the Bulls brought him back on December 2nd. Although his time with the Bulls didn't last long, he did manage to play in six games and accumulate 31 minutes of playing time.
In that time, he was not very good. He attempted three three-pointers but didn't make any. He attempted two free throws, but he missed them both. He did have three steals, but he also had four turnovers. Even though he was a rookie, the Bulls had seen enough after just 13 days and released him on December 15th.
Jo Jo did not do a ton to help that 1993 NBA Championship team, but he was a part of it. And he had a much larger role the following year as he not only played in 36 games during the regular season, he even played in seven playoff games. Oh, and I guess you could say he had quite the impact in the playoffs.
And that brawl with Derek Harper got him suspended for a grand total of one game. Had this happened during a championship season, Jo Jo would probably be 20 spots higher. Unfortunately, I was unable to confirm whether Jo Jo said this during the exchange:
Get out (leave) right now
It's the end of you and me
It's too late (now) and I can't wait for you to be gone
Cause I know
About her (who) and I wonder (why)
How I bought all the lies
You said that you would treat me right
But you was just a waste of time
I
might
be thinking of the wrong Jo Jo.
Previous Entries: