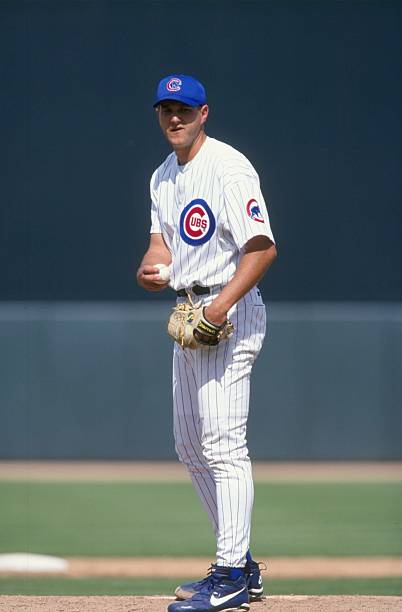 25. Marc Pisciotta
Marc Pisciotta's baseball fame started well before he made the major leagues. In 1983, at age "12" he led East Marietta, Georgia to a Little League World Series. I put that age in quotation marks, because the dude was 6'2" at that age and blowing away everyone he faced. I know baseball loves to question the ages of people from Latin America, but the 70s and 80s were a crazy time in this country, and Pisciotta likely bought his entire team beers after the game.
Fast forward 14 years, and Pisciotta made his major league debut for the Cubs in 1997 where he pitched quite well out of the bullpen, accumulating a 3.18 ERA while throwing 28.1 innings. With that performance, he guaranteed himself a spot in the big league bullpen for 1998, and to start the year, he did not disappoint. He didn't allow a run in his first five appearances and carried a 1.53 ERA towards the end of April. He was taking high leverage innings and delivering when it mattered.
Unfortunately, April 30th became a turning point for Pisciotta as he was able to get Royce Clayton out before walking Delino DeShields. That led to Mark McGwire coming up and destroying a pitch and raising Pisciotta's ERA almost a full run in the process.
May was not kind to Pisciotta as even though he wasn't awful, he had a few bad outings that led to his ERA ending the month at 4.34. But just when it looked like the wheels might be falling off, he rebounded to put up a good June and lower his ERA to 3.70 at the end of the month. This made him arguably the Cubs third most effective reliever through the first half of the season.
But July started off poorly for Pisciotta. On July 4, he gave up a solo home run to Al Martin in an inning of work. On July 9, the Brewers were able to manufacture a run off a couple singles, a wild pitch, and a sacrifice fly off of Pisciotta, but Pisciotta pitched 1.2 innings, so it barely raised his ERA from 3.83 to 3.89. Pisciotta came in again on July 11 with an inherited runner and gave up an infield single to Jeff Cirillo before immediately being replaced. Cirillo would go on to score which would raise his ERA to a very average 4.09 in 44 innings of work.
Despite the Cubs getting some truly awful performances from their bullpen, this was enough for the Cubs to send Pisciotta to Triple-A Iowa to work on his pitching. And one particular decision was followed by an even more peculiar result. Pisciotta completely self-imploded at Iowa. He put up a 6.46 ERA in Des Moines, and obviously, that was not impressive enough for him to get another shot in Chicago.
The Cubs released him before the 1999 season and he signed with the Royals. He did pitching 8.1 innings in 1999 but gave up 8 runs and would never see the major leagues again, retiring from baseball in 2000.
Marc Pisciotta may be one of the most curious stories on this list. You could make the argument that he was the Cubs third best reliever that year, and yet he got sent down and was never able to pitch effectively again. Still, he manged to be an average reliever for the Cubs for over half a season, and compared to the other guys that I have already covered on this list, that makes him extraordinary.