I feel it is time to reveal the most overrated prospects in the draft. I want the Bears to avoid these players at all costs, so I will be absolutely shocked if the Bears don't end up with at least two of the guys on this list. My favorite teams hate me.
QB - Blaine Gabbert - Missouri -
I already wrote about this one, and I stand by everything I said.
RB - Mario Fannin - Auburn - He wasn't good enough to start in college. Yes, Michael Dyer is a very good back, but Fannin was a Senior who should have been important to the Auburn offense. But he's been rising up draft boards, because he's got a good 40 time and a big body. I feel like many NFL teams are full of nerds who were never able to get the pretty girl, so they go for the pretty prospect to make up for ending up with a fat wife back at home. I have no proof of this, but I still feel the theory is sound.
FB - Nobody - I am physically unable to dislike a fullback; they are inherently awesome.
WR - There's a ton of variation on where guys are going to go at this position, so it's tough to know until I see a team take a certain wide receiver way too early. If I wanted to base things off pure speculation, I'd say A.J. Green, but that's mostly because I could never will myself to watch Georgia play.
TE - Weslye Saunders - South Carolina - Big, but not that great of a blocker. Slow and off the field problems. I don't see why anybody would waste a draft pick on this guy.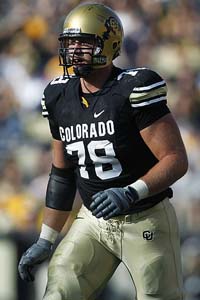 OT - Nate Solder - Colorado - The most overrated prospect in the entire NFL draft. I will guarantee that speed rushers fly by him. I think a lot of power rushers will push him back. Doesn't bend well, skinny in the lower half, I am 90% sure that the Bears will draft him and leave me cursing for the following two days of the draft.
OG/C - Nobody - Just like fullbacks, interior linemen are inherently awesome.
DE - Ryan Kerrigan - Purdue -
I wrote about him extensively here
, but there's rumblings that he may go Top-10, and I just don't see him being explosive enough to warrant that type of a pick.
DT - Muhammad Wilkerson - Temple - This guy has been getting a ton of love lately as a possible top-20 pick, and when watching him in games, I came away completely underwhelmed as he really didn't dominate low-level competition and Penn State completely took him out of the game when he played an upper echelon opponent.
OLB - Dontay Moch - He's projected as just a mid-round pick, but a lot of that is based on the way that he impressed with his numbers at the combine. The guy is a great athlete, but that doesn't make him a great football player.
ILB - Casey Matthews - Oregon - I know he has long hair just like his brother, but that's where the comparisons end. He's slower, less powerful, and a worse tackler. He's a guy you take in the seventh round to be a special teams player, not a guy you really expect to make an impact.
CB - Chris L. Rucker - Michigan State - I have seen him listed as a sleeper pick by some experts. Maybe he is, but only if you go to sleep and when you wake up you realize it would be a bad idea to waste a draft pick on him. He has good size, solid speed, but isn't a real good football player. On top of that, he had a lot of off the field troubles. I wouldn't touch him.
S - Nobody - They aren't inherently awesome like fullbacks and interior linemen, but they are rarely actually on the televison screen so it's difficult for me to say somebody sucks at this position.
K - Freddy Adu - Rizespor - Don't believe the hype. This guy sucks at football (this analysis would have been groundbreaking eight years ago).
-Joe
P.S. With all the talk of how steroids hurt the game of baseball, how has nobody brought up the two people who were hurt most by it? Greg Maddux and Tom Glavine totally could have had a threesome with Heather Locklear.