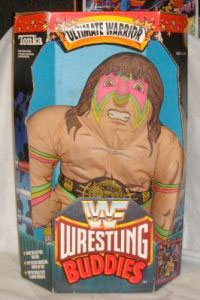 To say the timing of my following of the Ultimate Warrior was fortuitous is a gross understatement of how perfectly that I timed this. Right after I announced that I was following The Warrior, he not only started posting videos like they are going out of style, but he has started a Twitter account. And like all things Ultimate Warrior,
it's fucking amazing.
He started out his Twitter feed in the least surprising manner...by talking shit to Hulk Hogan.
I really think that this was Ultimate Warrior's number one purpose for setting up a Twitter account. Hulk Hogan hasn't been acknowledging him as a threat, so he figured he'd let it be known that he is going to put a bullet in Hulkamania. But that's not all as he totally burned Hogan with another tweet.
@

OfficialHTM

Absolute BS! Good to hear from you man. Stay active, passionate and healthy!! Hogan has no spine, no pun intended!
I'll admit, it took me a while to understand the "no pun intended" part of this tweet. I finally realized he was referring to Hulk's numerous back surgeries. Personally, I feel like instead of going with "no pun intended" a better way to end that tweet would have been with a "Hogan has no spine, literally!" To each their own.
I've watched this video about two dozen times. Each time I am absolutely mesmerized. I love that he calls it a social networking party, and uses that to challenge Hulk Hogan's former partying days. I love that he says that Hulk Hogan has a womanly handshake. And I love that he tells Hogan that he and his Warriors are going to bust down the wall of his (theoretical social networking party) house if he won't let them through the (theoretical) front door. He then gives an awesome diabolical laugh to end the video. It's all phenomenal.


How do you top that? For normal beings, they wouldn't be able to. For the Warrior, it's a piece of cake. Yesterday morning, he topped his amazing video when he greeted his Twitter followers with this message:
Morning, warriors. Yesterday is gone. Forever. Today, you rip fresh ass.
I wish I had something insightful to say, but it would only alter the perfection of that tweet.
-Joe
P.S. Macho Man may have tragically passed away, but he lives on in the
Where's Randy Savage tumblr
. This photo is amazing.
P.P.S.
Here's a good article on Clay Guida
who has a really interesting fight against Anthony Pettis tomorrow. The first four paragraphs gave me a good laugh, because I can vouch that John Dodson has been doing ridiculous moves like that before Pettis ever did it in his match against Ben Henderson.