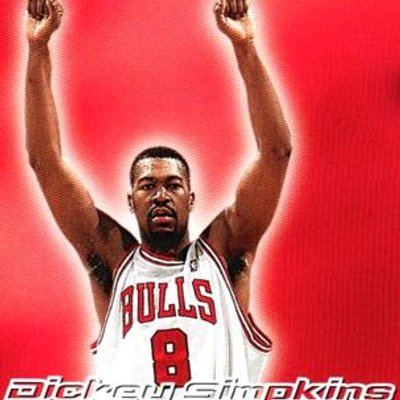 Dickey Simpkins
Let's just be real here. If you were an impressionable youth during the Bulls dynastic run, you loved Dickey Simpkins. Not really as a basketball player, but anytime you heard his name, it had to make you chuckle a little bit. It's not just the Dickey either, as Simpkins is a very fun last name as well.
On the court, he was less fun than his name, but he was good enough to stick around for a while. He was drafted in the first round of the 1994 NBA Draft (21st overall) out of Providence. During the Bulls good years, he was nothing more than a power forward coming off the bench for about ten minutes a game.
During the 1995-96 season, he played in 60 games, and even started 12, but was not good enough to make the Bulls active roster for the playoffs. The next year he played in 48 games, but again, the Bulls denied him a spot on the active roster for the playoffs. It's a bit of a shame considering his beautiful three-point shot.
Before the beginning of the 1997-98 season, his hopes for playing for a Bulls championship team in the playoffs seemed to die as he was traded to the Golden State Warriors in exchange for Scott Burrell. He would continue in his same role for the Warriors as he had with the Bulls, playing in some games, sitting in others, and not given the opportunity to truly make an impact. In February of 1998, the Warriors mercifully released him, and Dickey Simpkins redemption story began.
A couple weeks after being released by the Warriors, Simpkins signed back on with the Bulls. Simpkins showed a new fire as he set or tied career bests with 3.7 points, 0.8 assists, 0.2 steals, 0.1 blocks, while turning the ball over just 0.6 times per game. He even put up a career high 17 points in a game against the Washington Wizards. With this new Dickey Simpkins, the Bulls had no choice but to keep him on the active roster for the playoffs.
And Simpkins delivered, as the Bulls went 11-2 in games that Simpkins got on the court. His best games were when he put in 19 minutes in a three-point win against the Nets and 13 minutes in a win against the Pacers. The Bulls would cruise to a third straight title, and Simpkins was finally able to contribute in the playoff run.
The following season would be his best statistically as he started in 35 games, and tied for the league lead in games played with 50 during the strike shortened 1999 season. He would continue his career with the Bulls through the 1999-2000 season before playing a year overseas and then playing a single game for the Atlanta Hawks in 2001.
I really struggled placing Simpkins on this list. Three championships is tough to argue with, but he only played one year in the playoffs, and he didn't really make any meaningful contributions that year. In the end, it seemed like the Bulls would have been fine finding someone else to take those regular season minutes, so I have him below some guys who only have one championship but made bigger impacts in the playoffs.
When his basketball days were over, he did some broadcasting for ESPN and according to Wikipedia, he is currently a scout for the Charlotte Hornets, but according to his Twitter account, it looks like he is broadcasting for Big East games. Either way, if you'd like to play like Dickey Simpkins, well, boy do I have a treat for you.